This is a favorite dish to take to friends and family from Springfield Moms reader Kim Cobb who found this recipe from Kraft Foods magazine "Food & Family."
Mexican Monkey Bread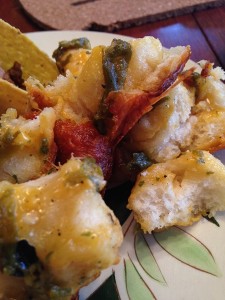 1 can (16.3 oz.) refrigerated biscuits, quartered 2 tbsp. butter, melted 1 1/4 c. shredded cheddar cheese 3/4 c. drained canned sliced jalapeno peppers 3/4 tsp. parsley flakes 1/4 c. shredded mozzarella cheese
Heat oven to 350 degrees.
Spray 9x5 inch loaf pan with cooking spray. Dip 1/3 of the biscuit pieces in butter; place in prepared pan. Top with 1/2 cup cheddar cheese, 1/4 cup peppers, and 1/4 tsp. parsley; repeat layers.
Cover with remaining dipped biscuit pieces, peppers, and parsley; top with combined mozzerella and remaining cheddar.
Bake 40-45 minutes or until golden brown. Let stand for 5 min. Invert bread onto plate; remove pan. Serve bread warm.
Kim offers salsa as well as ranch dressing on the side for dipping.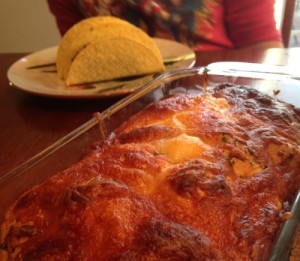 Our tip: We substituted New Mexican hatch chiles instead of jalapenos. Delicious!