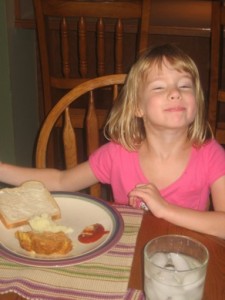 Thanks to Sarah Chandler for this recipe.
Meatloaf was a dish that I never tasted as a child. I think by the time I came along, my parents had their fill of this ground-meat dish and did not feel the need to have it as part of our dinner menu. Since I was "deprived" of this American staple as a kid, I wanted to find a good meatloaf recipe to try out just to see what it tasted like. This recipe originally came from Rachael Ray's magazine, and with a few tweaks, here it is in a form my children love. I marked onion as "optional" as it doesn't ruin the dish if you exclude it. Also, you can make this gluten-free just by substituting the traditional bread crumbs for crushed up g-free crackers.
Cheeseburger Meatloaf
1.5 lbs. ground turkey or ground beef (photos are of the ground turkey version)
2/3 cup ketchup
2/3 cup bread crumbs or crushed gluten free rice crackers
2 large eggs
1 cup shredded cheddar cheese
1 small onion, finely chopped (optional)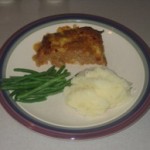 1. Preheat the oven to 400 degrees. Line a rimmed baking sheet with aluminum foil and spray it with cooking spray to keep the meatloaf from sticking. If you are using onion in your meatloaf, sauté it on the stove in 1 Tbsp. olive oil until softened. You can also use dried onion.
2. In a large bowl, combine the ground meat, ketchup, bread or cracker crumbs, eggs, onion, pickles and cheese. I use my hands for this step so I can get everything mixed together well, although a spoon works just fine too.
3. Form your meat mixture into a roughly 4" x 12" loaf on the baking sheet. Bake for 35 minutes or until an instant read thermometer reads 160 degrees.
4. Side dishes: We enjoy our Cheeseburger Meatloaf with mashed potatoes, green beans or corn, and a slice of butter bread.
Springfield Moms contributor Sarah Chandler is a Springfield native, wife to Jeff, and mom to Levi and Anne. She loves to be outdoors during all seasons and enjoys relaxing indoors by creating quilts and scrapbooking.