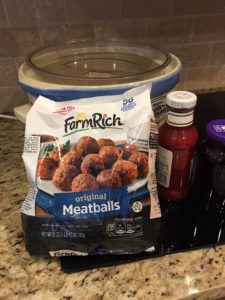 It's almost New Year's Eve and this means more time for family, friends, and football games!  Our family loves the ease of preparing appetizers in our slow cooker that are ready for the coming and going of guests and family.  Farm Rich contacted us to share details on their Meatball Truck Tour coming to greater Springfield 12/31 and 1/3-6, so we can all sample their Meatball products and get inspired with some new recipes and coupons! Their meatballs are gluten free, and come in three varieties – Turkey, Original and Italian Style – with up to 13g of protein per serving.   My kids refer to me as the Protein Police; so I like the idea of exploring new recipes that are easy and pack as much protein as possible in small servings.
I fired up our crockpot at our recent family gathering to enjoy our quick and easy Meatballs in Minutes; we will repeat this on New Year's Day when the tv is turned on to football games all day as we dismantle our holiday decorations.  Meatballs in Minutes is a favorite of ours for several reasons. The combination of the sweet from the Grape Jelly mixed with the spice of the chili sauce makes the perfect sweet taste with just the right amount of kick!  Also, who doesn't love recipes with five or less ingredients?
Recipe for Meatballs in Minutes
1 Jar 10 Ounces Grape Jelly
1 12 oz. Chili Sauce
1 Bag Frozen Farm Rich Meatballs (Original is our favorite for this recipe.)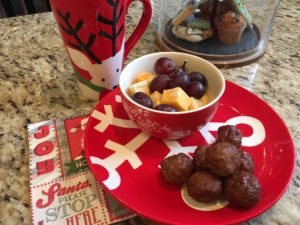 Mix together chili sauce and jelly and heat on HIGH until hot.  Add the Meatballs and Simmer for 30 minutes.  Then turn to low heat, and it can sit for hours. Serve with toothpicks.
You can sample their Meatball products at Walmart Supercenters December 31 and January 3-6 as part of the Farm Rich Meatball Truck Tour.  Check out specific times and locations here: farmrich.com/meatball-tour
Their website is full of quick and easy solutions for busy parents like us.  Their goal is to help simplify everyday life with delicious food, what they like to call "Real-Life Good". Before you head to the store, grab your coupon online.
This post was developed in partnership with Farm Rich. For exclusive offers and promotions, be sure to sign up for their newsletter.