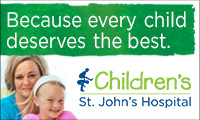 St. John's Hospital
800 E. Carpenter St.
Springfield, IL 62769
217-544-6464
This class combines Baby Basics and Dinner for Two: Breastfeeding Your Baby into an all-day Saturday format. Baby Basics meets from 9 am to 12 noon and Dinner for Two meets from 1 pm to 4 pm. There is an hour allowed for lunch on your own.
Registration: Pre-registration is required. Please register online or call the Personal Birth Consultant at 744-2229 or 800-392-6587 to register for this class.
For expectant parents delivering at a different hospital there is a $50.00 fee payable the morning of class.
Instructor: Instructors are all Birth Center registered nurses who are Child Passenger Safety Technician certified and/or certified breastfeeding consultants.