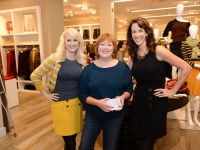 What a fun afternoon this past Sunday!  We'd like to thank LOFT for co-hosting the Mom's Day out celebration in honor of the grand opening of their store in White Oaks Mall last weekend.
Thank you to co-hostesses Christina Robinson Race and Julie Staley for greeting and mingling with shoppers. Everyone enjoyed the small bites, mimosas, the DJ and the sales specials galore throughout the store.
If you haven't stopped by the store, make time to enjoy the latest styles and fashions. Be sure to sign up for their email blasts here. You'll receive great coupons right to your inbox and sale reminders too.
Check out our gallery of photos from the LOFT here!  And a few more here.