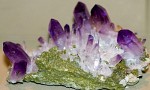 Gem, Mineral & Fossil Show (Springfield, IL)
This annual rock show is held at the Illinois State Fairgrounds and is always a sure hit with kids. Take a look at all of the booths, play some children's games, and pan for goodies in the sleuce.  Special exhibit: Science Channel's Meteorite Man, Steve Arnold will be there with his collection of meteorites.
Phone: 498-7713
$2 admission for adults; $1 for seniors (age 65+).  Free for scouts in uniform and all children 12 and under if accompanied by an adult.
Great food and free parking.
Free fossil, mieral and artifact identification.  Door prizes.