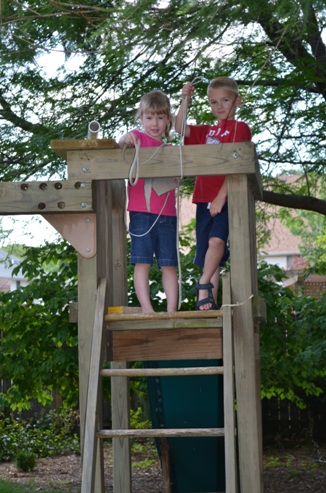 Thanks to Springfield Moms contributor Sarah Chandler for this reminder that unscheduled time can be one of the best parts of summer vacation!  She writes:
"On this, the 13th day of summer vacation, all is well in the Chandler household. The sun is shining, the birds are singing and my children, ages 6 and 4 are quietly doing worksheets in their rooms—hence I am able to write to you at this moment!
I know the summer schedule can be largely dominated by activity after activity, but as my children have shown me, giving them free time to explore and use their imaginations can be the best type of fun.
Yesterday, we headed out to the backyard to run off some energy after a morning of grocery shopping. In the yard we have a play structure with swings, a slide and a small 3' x 3' platform accessible by ladder. They play on it almost every day. It is nothing fancy to be sure, however this day, my children transformed it into a pirate ship. My son pulled a piece of PVC pipe and a length of rope from the garage and fastened a "cannon" to the railing. They grabbed sticks from the yard and used them as swords. A pot from a lavender plant became their treasure chest. Our black lab Daisy May became the sea monster and the Maple tree a desert island. I was their lookout perched in a chair on the deck.
After pirate time was finished, they shifted gears and began collecting leaves to make bird nests, and one they grew tired of that, they plopped down into the swings. And really, they only used the swings in a traditional sense for a few minutes before they were lying on their tummies, spinning around to see who could be the dizziest.
All told, Levi and Anne only spent an hour playing before the neighbor children came by to ride bikes, but it was the best hour of the day. It allowed them to use their minds to discover and play, which was easy and calming for them. There were no rules, no right or wrong answers to their play, just laughter and make believe for a pair of siblings. I hope as we enter days 14-82 of summer vacation, (yes, I am including the weekends in my tally so don't be worried!) there are many more impromptu imaginary afternoons ahead as I know my little pirates will only be little for so long."
Submitted by Sarah Chandler. Sarah is a Springfield native, wife to Jeff and mom to Levi and Anne. She loves to spend time outdoors biking, hiking, skiing and playing golf. When she needs a break, you'll find her in the purple painted walls of her craft room writing, creating quilts, swaddle blankets and scrapbooks.