Looking for a beautiful walk to take with your family? Lincoln Memorial Garden has well-marked trails with fabulous views along Lake Springfield and through woods and prairie. Don't miss this easily accessible natural resource!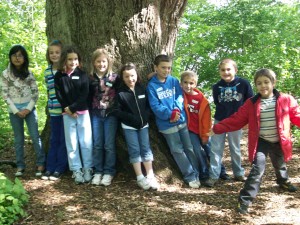 Located at 2301 East Lake Drive, Springfield, 529-1111, you can find information on Lincoln Memorial Garden lincolnmemorialgarden.org
Enjoy the beautiful trails and discover nature in the well-preserved gardens that are the best example of the prairie found in central Illinois during pioneer days. Check out their Junior Naturalist Programs offered for young people during the fall and spring as well as overnights during the winter. They also offer their very popular Summer Ecology Camp for children during June and July.
Lincoln Memorial Garden was founded in 1936 by Mrs. Harriet Knudson, a member of the Springfield Civic Garden Club as a living memorial to Abraham Lincoln. All the plants found at the Garden are native to the three states Lincoln lived in – Kentucky, Indiana and Illinois.
In the early 1930's, the city of Springfield donated land along the shore of Lake Springfield for the Garden, and the Garden Clubs of Illinois agreed to sponsor the project. Mrs.Knudson then secured the services of one of the country's foremost landscape architects, Jens Jensen, to design the Garden. LMG offers special events and classes year-round for adults and children. They also have a handicapped accessible interpretive trail, a restroom in the Nature Center, a gift shop, educational resources and plenty of parking!
Pack up your kids, and enjoy the Garden today!