SpringfieldMoms.org is proud to be one of the guest bloggers for the Central Illinois Foodbank!   I grew up in Springfield, and I think most all of us know this organization by name, but I wanted to learn more about it.   It was also a wonderful opportunity to bring along my daughters for the tour. Believe me, they now have a much better appreciation for the food that is on our table at every meal and understand how they can help others.
Central Illinois Foodbank, established in 1982, distributes over 8 million pounds of food annually to over 150 food pantries, soup kitchens, residential programs and after-school programs in a 21 county region.  They are a member of Feeding America, the nation's largest hunger relief organization. The mission of the Foodbank is to collect donated food and grocery items from growers, manufacturers, processors, wholesalers and retailers for distribution to charitable agencies serving people in need. 
Touring the 22,000 square foot warehouse instantly shows you how they are able to distribute so much every year.  The girls enjoyed standing on the scale they use to weigh ALL items that leave the warehouse.  Some agencies pick up their orders; some are delivered, and they all pay between eleven to nineteen cents a pound for their orders.  We saw numerous pallets stacked and ready for delivery and pick-up!  We learned that fresh produce is always free, and they distribute much more than just food!  We saw boxes of diapers, baby formula, suncreen, shampoo, lotion, and hand sanitizer.
Our biggest takeaway from our first visit was that anyone can donate and get involved to help the foodbank.  You can organize your own food drives at school, your neighborhood or church, and when you bring your items in, the Central Illinois foodbank will ensure they find their way to the people in need.  They have a great list of tips and a wishlist on their website.  We challenge our readers to think of how they can contribute!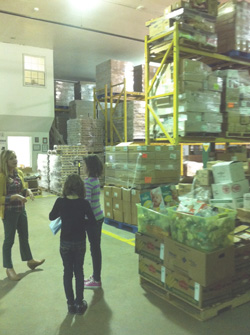 If every family donated a bag of items from the wishlist and a dozen or so organized food drives, imaging the influx of food and grocery items reaching others in the greater Springfield Area!