If your family enjoys art, try making your own wrapping paper.
The recipients of your "hand wrapped" presents will feel very special knowing you took the time to make a wrapping paper just for them! Plus, you can save a little money and help the environment.
Potato Print Paper: Cut a potato in half, carve out a design with a knife. Kids, get your parent's help with this! The raised part will be what you'll stamp. Stamp the potato onto an ink pad, and then onto a roll of plain paper. For a "greener" option, use a paper shopping bag, cut it open and use the non-printed side for your design.
Butcher Paper: Buy a roll of butcher paper. Decorate with markers, crayons, stickers, stencils, stamps, glitter glue, cutouts from magazines or greeting cards, sequins, watercolor/tempera paints, or even photographs!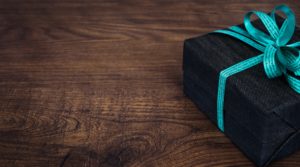 Riddles: Write a joke or riddle somewhere on the outside of the paper, with the answer on the backside.
Using Leftovers: You can also wrap presents with leftover wallpaper, Sunday comics, pages out of a catalog, or print something from your computer if it's a smaller present.
Embellish It! No present would be complete without a ribbon! You can tie it up with a cool set of shoelaces, and you could even tie a dollar to the present. Other ideas include trinkets, barrets, scrunchies, toy cars, or even pieces of nature like pine cones or small twigs.