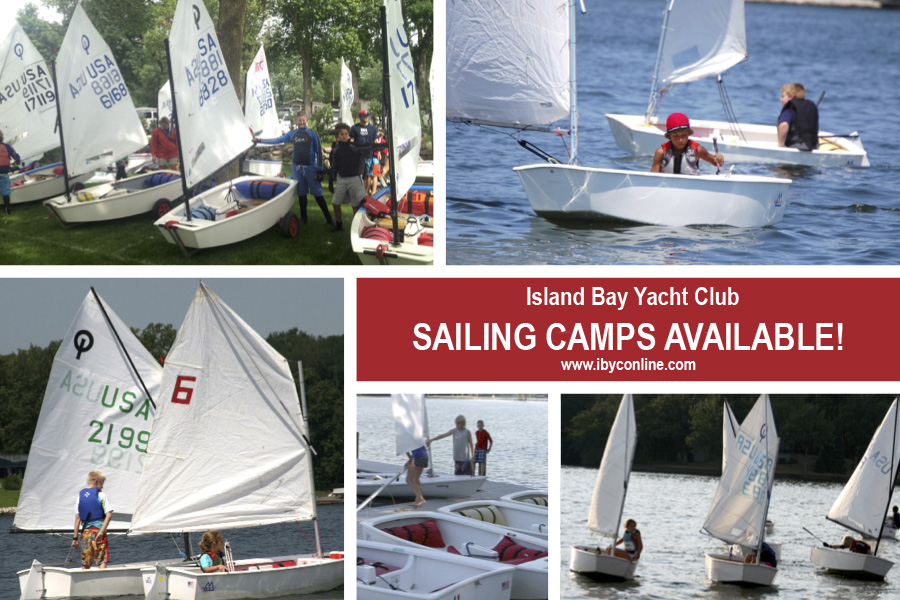 Island Bay Yacht Club
76 Yacht Club Road
Springfield, IL 62712
217-529-5418
Follow Us on Facebook https://www.facebook.com/IBYCSailing/
Come feel the wind in your face and see beautiful sunsets while you learn the art of sailing in a safe and fun environment!
In 1956, the Island Bay Yacht Club officially started a junior sailing program and has been introducing people to the sport of sailing ever since. Even if you have never set foot on a boat, we can teach you everything you need to know to build a strong foundation in this rewarding and life long sport. Once you've been out on the open water with your sails in the wind, it's easy to fall in love with this beloved sport and pastime. Sailing involves an understanding of wind and water — and it produces a feeling of freedom that cannot be duplicated. To sail is to carry on a rich nautical tradition of harnessing the power of the wind and sea. Hard to imagine this in the middle of the cornfields, yet it is within reach here at Lake Springfield!
Programs offered by the IBYC are open to non-members and members across all ages and abilities!
Session descriptions are below,
Junior Camps (for ages 7 and up)
Offered in 4 sessions in two-week blocks with half day and full day options. The camp is held rain or shine! For safety, all sailors must be able to pass a swim and float test. Generous scholarships are available.
There will be a parent/child sailing night on the last Thursday of each session. It is a chance to see the student as Skipper and the parents as Crew, dinner is included in the pavilion. The last day of the camp session is considered the ultimate fun day! Bring water squirters, try to dunk your instructor, and splash around.
The summer program ends with the much anticipated Junior Sleepover (July 21), Big Time Regatta (Aug 1-4), and Sailing Awards Banquet (Aug 4) for all summer camp participants. The junior sleepover is a chance to pitch a tent on the IBYC grounds and enjoy a sleepover at the club. It includes the annual scavenger hunt for the mega-candy treasure, swimming in the pool, dinner, and roasting s'mores by the fire pit. The Big Time Regatta features races by category and age groups over 3 days. The final day of the Regatta will include a delicious dinner banquet for the entire family. Presentations will include individual camp awards, Big Time Regatta place awards, and a few special recognition awards in crazy categories.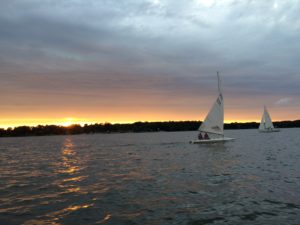 Family Sailing Class: Also new is family sailing for adults with and/or without your children. We will be using cabin-fleet sailboats that hold up to 5 people. The class will be offered weekly either Monday or Tuesday nights for 7 weeks making it perfect for a family fun experience after work.
High School & College-Age: New this year, we will be offering lessons on 420 two-handed (2 people) sailboats. The name describes the overall length of the boat in centimeters and is very popular in North America. It is competitively used in high school racing and at the collegiate level. This is a great chance to open school club sailing opportunities to your college-aged child!
We also offer Laser sailboats for older students. The Laser is one of the most popular single-handed (one person) dinghies in the world. As of 2012, there are more than 200,000 boats worldwide. A commonly cited reason for its popularity is that it is robust and simple to rig and sail. We will introduce racing techniques in a fun, safe, and competitive environment.
IBYC is dedicated to making your learning experience as safe and enjoyable as possible. We start junior sailors on opti's beginner boats. The Opti pram was designed in 1947 at the request of the Clearwater Florida Optimist service club to offer safe, low-cost sailing for young people. It is now sailed in over 120 countries and it is one of only two yachts approved by the International Sailing Federation exclusively for sailors under 16.

Online Registration is Open!