Springfield Junior Blues Hockey
The Nelson Center
1601 N. Fifth Street, Springfield
Follow them on

facebook or

Twitter @Jr_Blues
All of the Jr. Blues' home games are located at the Nelson Center located in Lincoln Park, Springfield IL.
The Springfield Jr. Blues are the NAHL's longest running active team, having joined the NAHL back during the 1993-94 season.  The Jr. Blues are just one of seven NAHL teams to have won multiple Robertson Cup Championships (1996, 1997).  Over 160 alumni have gone on to NCAA Division I and III hockey.
Exhibition Home Games – FREE; Entrances to the Exhibition games are free. Fans wishing to attend can pick up tickets at the Jr. Blues office and at our current sponsors prior to game night.  The Jr. Blues will be printing more tickets than the Nelson Center holds. The first 2,000 people for each game will be allowed to enter. Be sure to come early and support your Jr. Blues.
Jr. Blues A+chievers. Get an A on a report card and get a free ticket. Details here.
Season Home Games: Check their website for final game times, most are 7:05 p.m.

Tickets
Adult – $10    Children (under 18) – $5
Seniors (over 65) – $5    Veterans – $5
(cash only)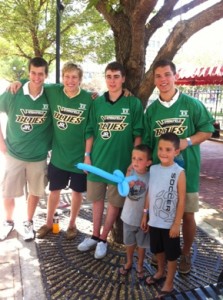 January 1, Tuesday - vs. Michigan – 3:00 pm
January 25, Friday – vs. Jamestown  - 7:00 pm (Boy Scout Night)
January 26, Saturday – vs. Jamestown  - 7:00 pm (Family Fun Skate Night)
February 1, Friday – vs. Michigan  - 7:00 pm
February 2, Saturday – vs. Michigan  - 7:00 pm
February 22, Friday – vs. Sault St Marie  - 7:00 pm
February 23, Saturday – vs Sault St Marie  - 7:00 pm
March 1, Friday – vs. Johnstown  - 7:00 pm
March 2, Saturday – vs. Johnstown  - 7:00 pm
March 29, Friday – vs.Kalamazoo  - 7:00 pm
March 30, Saturday – vs. Kalamazoo  - 7:00 pm
Pin It