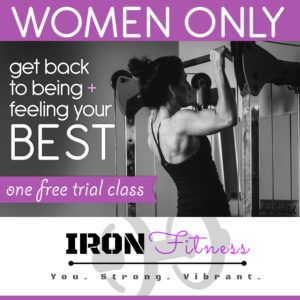 773 Durkin Drive, Suite B
217-971-3327
West side of Durkin Drive behind Nico's restaurant. (Between Monroe & Lawrence off Veteran's).
Iron Fitness is a fun and supportive place to exercise and push toward a stronger you. Iron Fitness offers a free weight area as well as group classes designed for a fantastic workout, no matter your fitness level. Other services include personal training and nutrition coaching tailored to your lifestyle. Each of us is on our own journey and at Iron Fitness, we support each other at every step.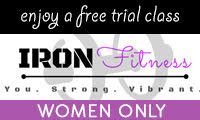 Mention Springfield Moms and enjoy a FREE Trial Class and check out our new member specials to gear up for the New Year!
Testimonials –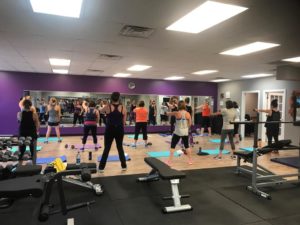 "I want to thank you for your program. I've benefited in so many ways. I'm no longer intimidated by all the equipment/weights like I used to be. I feel stronger and am seeing how that carries over to the rest of my life. I feel like a good role model for my daughters and they see hard work pays off. I've learned so much about food too. This was my first time weighing food and planing meals thoughtfully. I've paid closer attention to the choices I make and am amazed how many foods have extra sugar in them. I'm proud I've avoided Halloween candy this year too. I've been drinking tons more water. Basically, just feeling a better balance in my life. Thank you! You inspire so many people to be the best they can be!"
Melissa, Fall 2017
"I have struggled with diet and exercise most of my adult life. I have tried many fad diets and popular diet programs, some with success and some without. I have been sporadic in my exercise routine. I tried running and enjoyed group exercise classes, especially those with a focus on weights but never had much success because I never stuck with it nor did I really have a plan. I started counting macros at the suggestion of a friend about two years ago and loved the flexibility of this way of eating and tracking my food but I was never sure if I was following the correct numbers for my goals and I didn't stick with it. I wanted to do more weight work but struggled to put a plan together. Working with Natalie pulled together everything I wanted to do but didn't have the knowledge to put together for myself. Besides giving me macros to follow and a workout routine, she offered encouragement and accountability like I had never before experienced. I did what she said and I got the results I wanted. Not only I have I lost weight and built strength, I have developed a sense of confidence in myself and an appreciation for my body that I didn't know was possible. Natalie has a passion for fitness and nutrition and genuinely cares for her clients, something that is hard to find in that world these days."
Monica, 2017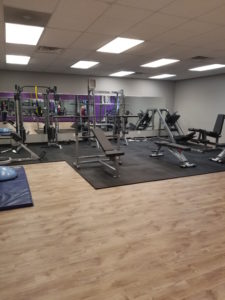 Business Hours:
Monday
–
Friday
5 a.m.- 7:30 a.m.
and
4-8 p.m.
Saturday/
Sunday
7 a.m. – 3 p.m.