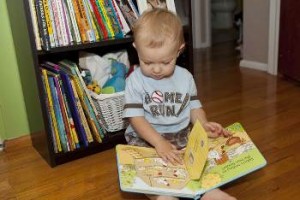 As your baby grows older, he or she may not be content anymore to sit and stare at the brightly colored pages that you're reading. This is the perfect time to break out some interactive books for your little one, so that she can add another element of learning into your reading time.
Touch and feel and lift the flap books are a big hit in our household with my 19-month-old son Connor, both during playtime as well as reading on car rides. Some of our favorites include:
Where is Baby's Belly Button?, by Karen Katz. This book will help your baby learn the difference between his or her eyes, ears and feet in no time at all! Each of the pages allows the child to lift a flap to reveal a different body part…for example, the baby's feet hiding behind a cat.
Touch and Feel Petting Zoo by Jeanne K. Grieser. The text of the story is unique with its short sentences and rhyming words, but all of the pages will offer your child a new texture to touch. In addition to the typical animal fur found in many other books, this one also has textures like the pig's sticky mud – very popular with my little guy!
Guess Who Ocean Friends by Jodie Shepherd. This book is one of the big reasons that my son now loves fish of all kinds, and he can now tell the difference between all of the ocean life. Your little one can pull back the arms, flippers and fins of the different fish and mammals to see who is hiding in the ocean.
Baby Love by Sandra Magsamen. Baby Love is a soft, accordion-style book that offer both touch-and-feel and lift-the-flap experiences for your little one. Each page features an animal expressing its love to its baby in its own way, and each of the animals feels differently, plus your baby can lift the animal's face to read more.
Baby Einstein's Touch and Feel Wild Animals by Julie Aigner-Clark and Nadeem Zaidi. The Baby Einstein touch and feel books are great because they show the animals in both the cartoon version and a real photo, so kids can make that connection. Connor especially loves the fur of the lion and tiger in this book.
Where's Spot? by Eric Hill. All of the Spot books are absolute classics! We have both the original version and an Easter version, and Connor loves them both. In the first story, you can follow Spot's mother as she looks for Spot before supper time. Your baby can lift the blanket from the bed, open drawers and lift the piano cover, to be surprised with all kinds of other animals before finally finding Spot.
Submitted by Springfield Moms Advisory Board member, Courtney Westlake, who is mom to Connor and Brenna and wife to Evan.