The Illinois State Museum
502 S. Spring St. (corner of Spring and Edwards Streets), Springfield
Regular Hours: 8:30 a.m. to 5:00 p.m. Monday through Saturday, noon to 5:00 p.m. Sunday.  Admission is FREE. Visit website.  Parking is available nearby, and the building is ADA accessible
Like Us on facebook   Follow Us on twitter  Pin With Us
Learn more about the benefits of becoming a Museum Society member.   Just $50 for a family membership.

The Mary Ann Maclean Play Museum is open in the lower level and filled with activities for your younger explorer! Load a Jeep for an expedition, crawl through a cave, excavate a Mastodont skeleton, frame works of art, and much more! You won't want to miss this and the new Research Library with cozy cubbies for your kids and you to relax and read.
Play Museum Hours: Monday – Saturday 9:30 AM to 4:00 PM, Sunday 1:00 PM to 5:00 PM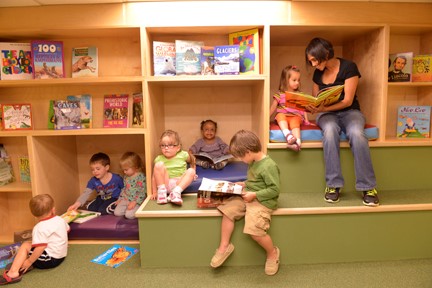 The Illinois State Museum caters to a large audience of family visitors and takes pride in offering family friendly exhibitions and programs.
The Illinois State Museum inspires discovery and caring about Illinois' cultural and natural resources and heritage. The Museum's extensive collections and research activities provide the foundation for exhibitions and public programs that tell the story of the land, life, people and art of Illinois.
Don't miss our 2015 "Super Saturdays" held monthly with a variety of FREE and FUN activities for the whole family. Schedule here.

You are invited to "Story Time," a program designed for 3-5 year olds and their caregivers. Every second Monday of every month we feature engaging stories read by special guests. Children will also have the opportunity to see and learn about items from the Museum's collections.