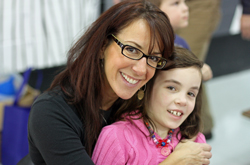 Don't be alarmed! This is simply an "adapted version" of a popular song.
Can you guess which one?
Kids come up with the funniest things.  I am grateful our household is long past the toddler CDs in the car and at home.  It was great while we were in that stage, but we've since moved on to listen to "mommy's music."  It's been helpful not to have the theme song from Dora, Imagination Movers or Elmo's World spinning around in my head for hours on end!
But now that I'm a parent, suddenly there's a struggle in my mind over song lyrics.  Do I constantly censor or simply cringe when some of the more explicit "clean" versions of several pop 40 songs push the envelope for "family-friendly?"
Recently, I was thrilled when the popular song "I Kissed a Girl" came on the radio, and my daughter said "Mommy, I have a new way to sing the song I learned on the school bus!"   I was curious about what she might say next considering what new things are often overheard from older kids on the school bus!
Out came, "I kicked a squirrel, and I liked it!"  I started laughing.
The bottom line…music brings our family together!
Most recently during these house-bound days, we turn the music up loud, take turns choosing songs  and off we go!  I love that my oldest's favorite song to dance to is: Lady (You Bring Me Up) by the Commodores.
Have your kids created funny lyrics (intentionally or not!) to popular songs?  Email me, and you'll be entered in our January prize drawing.