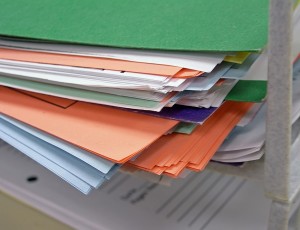 We're all swimming in papers at home while we finish our tax file prep, and Marine Bank offers practical suggestions on what to purge and what to keep. Who knows — maybe this weekend will present the time to actually tackle some of the paper piles!
Put Your Files on a Diet
An organized home office is a good place to start. The first hurdle is figuring out what records need to be kept and what can be purged.
Things you CAN SHRED and get rid of:
• Annual reports for investments. Get them online if needed.
• ATM or credit card receipts not needed for tax purposes. Reconcile your receipts with your statements, then save only the monthly statements – or access the statements online.

• Expired insurance policies.
• Expired warranties.
• Monthly or quarterly 401(k) statements. Make sure they are correct, than keep only the year-end statements. Better yet, access them online.
• Most paycheck stubs – keep only the last one of each year.
• Tax return documentation older than seven years, unless it deals with a taxable investment or asset that you still own.
• Deposit slips. As soon as you check them against your monthly statement, shred them.
• Household bills older than one year. For services you have cancelled, keep the final bill and any proof of its payment.
• Old wills, trust and powers of attorney that have been replaced by newer versions.
Things to KEEP:
• Paperwork concerning vehicles you still own – registrations, maintenance and repair receipts, warranties, owner's manuals, titles.
• Credit card statements. You need to have seven years' worth of credit card statements to support your tax returns. Consider accessing yours online rather than keeping paper copies.
• Receipts for the purchase of items of value.
• Paperwork showing you have paid off a loan.
• Mortgage paperwork or your lease agreement if you rent your home.
• Home improvement and repair records.
• Records of taxable investments – you want a record of how much you initially paid for the investment. Keep statements for as long as you own the investment plus seven years after you sell it.
• Records of IRA contributions.
• Tax returns. You can toss supporting documentation after seven years, but keep the returns.
• Vital records such as birth and death certificates, adoption papers, marriage licenses, military service papers and divorce decrees.
• Wills, powers of attorney and other legal documents.
• Savings bonds, certificates of deposit, securities certificates and the like.
• Current insurance policies.
• Family health records.
• Education records.
Mark your calendar for SHRED Day April 7th, 2018 from 9:00am- 11:00am at their West Branch location.
Submitted by Springfield Moms Bronze Premium sponsor Marine Bank.