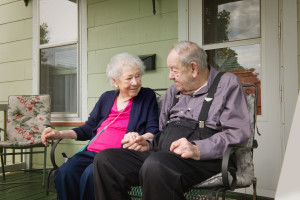 One woman received a beautiful new Christmas dress, and another woman took a hot air balloon ride. A couple celebrated their 75th wedding anniversary with a special catered dinner and a photographer to capture the occasion. A grandfather got to meet his young great-granddaughter (who lived out-of-state) and present her with a special music box. One dad got to take his family to tour the Shedd Aquarium and enjoy lunch together in the Windy City.  (More here.)
These are feel-good stories for families who will long cherish the memories provided as a result of the Sharing Wishes Fund. Their loved one is receiving hospice care, which means bringing in a healthcare team that focuses on physical, emotional and spiritual quality of life during a serious health diagnosis. Donations to the Sharing Wishes Fund help fulfill the wishes of many hospice patients.
Right around the corner is a fun opportunity for you to help, too! The 6th Annual Hospice Gala – Sharing Wishes Fund  is coming up April 1, 2017. You and your guest can enjoy dinner and music, inspiration and entertainment. Register today for the gala. If you can't attend the gala, click here to make a donation to the Sharing Wishes Fund. The Memorial Medical Center Foundation, which sponsors the event, will make sure your money reaches the people who need those special memories the most.