Start here for building your grocery list for your next holiday meal!
Good Eats Roast Turkey
Thank you to Kari Thevenot for submitting this recipe from www.foodnetwork.com. This turkey recipe has been used in the Thevenot family a number of times, and always results in a moist, flavorful bird. While it is a little work on the front end, it is well worth the effort. This recipe is from the Food Network's "Good Eats" show, hosted by Alton Brown.*
1 frozen turkey (14 to 16 pound)
For the brine:
1 cup kosher salt
1/2 cup light brown sugar
1 gallon vegetable stock
1 tbsp. black peppercorns
1/2 tbsp. allspice berries
1/2 tbsp. candied ginger
1 gallon iced water
For the aromatics:
1 red apple, sliced
1/2 onion, sliced
1 cinnamon stick
1 cup water
4 sprigs rosemary
6 leaves sage
Canola oil
Combine all brine ingredients, except ice water, in a stockpot and bring to a boil. Stir to dissolve solids, then remove from heat. Cool to room temperature and refrigerate until thoroughly chilled. Early on the day of cooking, or late the night before, combine the brine and the ice water in a clean 5-gallon bucket. Don't use a bucket which has previously been used for cleaning – use a bucket that can be for the turkey. Place thawed turkey breast-side down in brine, cover, and refrigerate or set in a cool area (like a basement) for 6 hours. Turn turkey over once, halfway through brining. A few minutes before roasting, heat oven to 500 degrees. Combine the apple, onion, cinnamon stick, and cup of water in a microwave safe dish and microwave on high for 5 minutes. Remove bird from brine and rinse inside and out with cold water. Discard brine.
Place bird on roasting rack inside wide, low pan and pat dry with paper towels. Add steeped aromatics to cavity along with rosemary and sage. Tuck back wings and coat whole bird liberally with canola or other neutral oil. Roast on lowest level of the oven at 500 degrees for 30 minutes. Remove from oven and cover breast with double layer of aluminum foil, insert probe thermometer into thickest part of the breast and return to oven, reducing temperature to 350 degrees. Set thermometer alarm (if available) to 161 degrees. A 14-16 pound turkey should require a total of 2-2 1/2 hours of roasting. Let turkey rest, loosely covered for 15 minutes before carving.
Dressing/Stuffing
Thank you to Carrie Ann Judd for submitting this recipe for dressing/stuffing which has been in her family for over 80 years.
1 cup Crisco
2 cups chopped onion (chop by hand, do not use a food processor)
2 cups chopped celery (chop by hand, do not use a food processor)
1 and 2/3 gallons soft bread cubes
1/2 tsp. pepper
1 tsp. salt
2 tbsp. poultry seasoning
2 tbsp. chopped parsley
2 cups chicken broth
Melt Crisco in skillet. Add onion and celery. Saute in hot oil for 15 minutes. Add remaining ingredients, except for the chicken broth. Pour over bread cubes and mix. Add chicken broth until a desired consistency.
Classic Stuffing
Thank you to Lisa Whelpley for submitting this recipe from www.marthastewart.com. This is a family favorite of the Whelpley family.
Ingredients

12 tbsp. salted butter
4 onions (2 lbs.), peeled and cut into 1/4-inch dice
16 celery stalks, cut into 1/4-inch dice
10 large fresh sage leaves, chopped, OR 2 tsp. crushed dried sage
6 cups chicken stock, or low sodium canned chicken broth
2 stale loaves of white bread (about 36 slices), crust on, cut into 1-inch cubes
2 tsp. salt
4 tsp. freshly ground black pepper
3 cups (about 2 bunches) fresh, coarsely chopped flat leaf parsley leaves
2 cups pecans, toasted and chopped (optional)
2 cups dried cherries (optional)
Melt butter in a large skillet. Add onions and celery, and cook over medium heat until onions are translucent, about 10 minutes. Add sage, stir to combine, and cook 3 to 4 minutes. Add 1/2 cup stock, and stir well. Cook for about 5 minutes, until liquid has reduced by half. Transfer onion mixture to a large mixing bowl. Add all remaining ingredients, including the remaining stock; mix to combine.
Holiday Cranberry Sauce
Thank you to Kari Thevenot for submitting this recipe from www.allrecipes.com. This recipe is a fresh take on traditional cranberry sauce, with using fresh cranberries instead of the canned variety.
4 cups fresh cranberries
1-1/2 cups water
5 whole cloves
5 whole allspice berries
3 cinnamon sticks
2 cups white sugar (can also use Splenda instead of sugar)
Place fresh cranberries and water in a medium saucepan over medium heat. Wrap cloves, allspice berries and cinnamon sticks in spice bag. Place in the water with cranberries. Cook until cranberries begin to burst, about 10 minutes. Stir in sugar and reduce heat to low. Continue cooking 5 minutes or until the sugar has dissolved. Remove from heat and allow to cool. Discard spice bag. Chill in the refrigerator for 8 hours, or overnight, before serving.
Buckeyes
Thank you to Kari Thevenot for submitting this recipe from www.allrecipes.com. This recipe produces about 5 dozen buckeyes. Real buckeyes are nuts that grow on trees and are related to the chestnut – but these buckeyes are pure decadence. If you love peanut butter and chocolate, this recipe is sure to be a hit! Perfect for holiday goody baskets.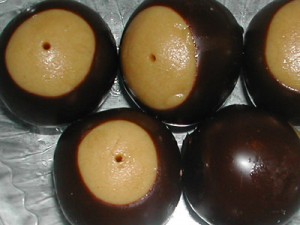 Ingredients
1-1/2 cup peanut butter
6 cups confectioner's sugar
1 cup butter, softened
1/2 tsp. vanilla extract
4 cups semisweet chocolate chips
Blend peanut butter, sugar, butter, and vanilla. Dough will look dry. Roll into 1-inch balls and place on a wax paper lined cookie sheet. Poke a toothpick into the top of each ball. This will be used later as a handle for dipping. Chill in the freezer until hard, about a 1/2 hour. Melt chocolate chips in the top of a double boiler – use very low heat, not much hotter than tap water or the chocolate will get grainy. This will take a while. Optional: Have melted chocolate chips in the microwave – this works, but heat in multiple cycles at about 40-50% for about 30 seconds at a time. Stir in between cycles. Dip frozen peanut butter balls in chocolate, holding onto the toothpick. Leave a small portion of peanut butter showing at the top to make them look like buckeyes. Put back on the wax paper lined cookie sheet and refrigerate for 2 hours.
Peanut Butter Oat Bites
Thank you to reader Ann Tetzlaff for submitting this recipe from www.allyou.com.
2 tbsp. butter
2/3 cup creamy natural peanut butter
1/4 cup powdered sugar
3 tbsp. honey
1 tsp. vanilla extract
1-1/2 cups Rice Krispies
1 cup quick oats
1 cup mini chocolate chips
Melt butter in a saucepan or microwave. Stir in all other ingredients until well mixed. Form into 1″ balls and put in a container in the refrigerator until well set. Optional: You can also roll the balls in peanuts or add raisins to the recipe.
Pumpkin Crunch Cake
Thank you to Kari Thevenot for submitting this recipe from www.allrecipes.com. This recipe has been a yearly staple in the Thevenot family for close to ten years. Kari fixes this sinful dessert every Thanksgiving, or else would hear about it from hungry family members! The crunchy crumb topping is what makes this dessert so very yummy.
2 cups pumpkin puree
12-ounce can evaporated milk
4 eggs
1-1/2 cups white sugar
2 tsp. pumpkin pie spice
1 tsp. salt
1 (18.25-ounce) package yellow cake mix
1 cup chopped pecans
1 cup margarine, melted
1 (8-ounce) container frozen whipped topping, thawed
Preheat oven to 350 degrees. Lightly grease one 9×13 inch baking pan. In a large bowl, combine the pumpkin, evaporated milk, eggs, sugar, pumpkin pie spice and salt. Mix well and spread into the prepared pan. Sprinkle the yellow cake mix evenly over the top of the pumpkin mixture and pat down gently. Sprinkle the chopped pecans over the top of the cake mix, then drizzle the melted butter all over the top. Bake at 350 degrees for about one hour, but no longer than 1 hour and 20 minutes. Let cool. Serve with whipped topping. Makes one 9×13 inch cake.
Turtle Pumpkin Pie
This recipe, along with other holiday recipes, can be found at www.dessert.com. Preparation Time: 15 minutes, plus refrigeration; Serves: 10
1/4 cup plus 2 tbsp. caramel ice cream topping, divided
1 Honey Maid graham pie crust (16-ounce)
1/2 cup plus 2 tbsp. chopped pecans, divided
2 pkg. (3.4-ounce each) Jell-O vanilla flavor instant pudding
1 cup cold milk
1 cup canned pumpkin
1 tsp. ground cinnamon
1/2 tsp. ground nutmeg
1 tub (8-ounce) frozen whipped topping, thawed, divided
Pour 1/4 cup caramel topping into crust, sprinkle with 1/2 cup nuts. Beat pudding mixes, milk, pumpkin and spices with whisk until blended. Stir in 1-1/2 cups whipped topping. Spoon into crust. Refrigerate one hour. Top with remaining whipped topping, caramel topping and nuts just before serving.