Keep checking back – we're updating this post every week!
2017 Featured Events:
November 20-January 6: Holidays at The White House at Abraham Lincoln Presidential Library and Museum.
Just like families across the world, First Families celebrate the holidays in their own special ways. This exhibit, using materials from the Eisenhower, Kennedy, Clinton and George W. Bush Presidential Libraries and Museums, gives a glimpse of how some of our Presidents and their loved ones enjoyed the holidays in the White House. From family photos to White House invitations, from Christmas cards to colorful decorations for the tree, these treasured items from presidential collections give us a taste of what it is like to celebrate this joyous season with America's First Families.
All Season Long: The Shelbyville Festival of Lights. Located in Forest Park. The daily event is a drive through event with thousands of lights and displays depicting Christmas and holiday events and will be open every night thereafter until Jan 1st, 2018. The drive through festival is supported by donations only.
December 27-30: Kwanzaa Celebration noon to 4 pm at Springfield & Central Illinois African American History Museum, 1440 Monument Ave. Springfield. Kwanzaa is a Celebration of Family, Community and Culture. Its a week long celebration that honors African heritage in African American Culture. Join the Museum as we "All" celebrate this tradition of celebrating the past year to come! 217-391-6323. Free; donations accepted.
Keep checking back – we're updating this post every week!
Past 2017 Events
November 4: The Great Russian Nutcracker 2 pm and 7:30 pm at Kirkland Fine Arts Center, 1184 W. Main Street, Decatur. Featuring 40 professional Moscow Ballet dancers, local youth dancers and choir, plus full musical accompaniment from the Millikin-Decatur Symphony Orchestra. Tickets $10-$65. 424-6318 for tickets.
November 11: Memorial Festival of Trees Gala. for tickets click here!
November 11 Holiday Open House in Normal Uptown Normal's kick off to the Holiday season from 11am-3pm. Santa and Mrs. Claus will be strolling the streets of Uptown spreading holiday cheer. Free carriage rides.
November 18-26th: Memorial's Festival of Trees. Admission is $5 for adults and $3 for children ages 3-12. Children 2 and under are free.
November 18: Chatham Holiday on the Square – A Chatham Hometown Tradition. The parade will kick off at 9:00am. There will be several activities, including shopping, crafts for kids, music, entertainment and children's games. And, most importantly, Santa! Bring your camera. Free and open to the public.
November 18 Illinois Symphony Orchestra Holiday Pops in the Heartland. Kick off your holidays with festive music and holiday songs. 7:30 PM Sangamon Auditorium
November 18 Christmas on Vinegar Hill in Mount Pulaski 8 am – 5 pm. Facebook page.
November 19 Holiday Pictures with Reindeer at Miller Park Zoo in Bloomington. 1-3 Nov 25; 10-noon on Nov. 26. You'll get unique holiday pictures to share with family and friends. Reservations and pre-payment are required. $20/family. Visit mpzs.org to register or call 309-434-2243.
November 24-26: Polar Express Pajama Party. Everybody in their jammies for a trip to the North Pole! At the Legacy Theatre. Tickets here!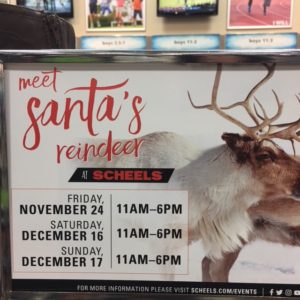 November 24: Visit Santa's Reindeer at Scheels from 11 am – 6 pm. In the Scheels parking lot.
November 25 Movie Night at the Hoogland – ELF 7 pm at Hoogland Center for the Arts, 420 S. Sixth St., Springfield. This classic Christmas comedy stars Will Ferrell and will be shown on the big screen in the LRS Theatre at the Hoogland. Doors will open at 6:30 pm for the 7:00 pm showing. Tickets are $8 (General Admission) and snacks will be available at the bar. Facebook event for more information.
November 25-26, Nov 30-Dec 3, Dec 7-10 Winterland Holiday Zoo Lights at the Henson Robinson Zoo. Holiday Music and Lights throughout the zoo. Hot Cocoa and Smores Station. Visit with zoo critters, Giant Teddy bear photo booth and Horse Drawn Carriage Rides.
November 27: Mannheim Steamroller Christmas by Chip Davis 7:30pm Sangamon Auditorium tickets start at $62.
November 11&12: Little Flower Holiday Craft Bazaar. Shop for your special holiday gifts during the 2017 Holiday Craft Bazaar. Over 65 unique vendor booths offering handcrafted items. Concession stand and bake sale also supports Little Flower School. Kids crafts (ornament kit) for children to make and take home for someone special. 9-4 Saturday and 10-2 Sunday. At Little Flower School, 900 Stevenson Drive, Springfield. Read more on our Event Post.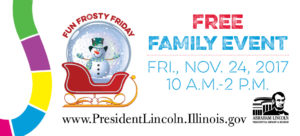 November 24th: Fun Frosty Friday at the ALPLM
FREE and open to the public. Life-Size Candy Land Adventure is back for a second year with new activities! Andrew's Family Magic will provide up close magic throughout the Library. The Unique Twist will create balloon art and face painting by June Bugs Face Painting will complete a festive look. Refreshing hot cocoa, along with Santa's favorite cookies, will be available at the Hot Cocoa Bar. Participants will receive a Passport to the Journeys to collect stamps at various stations for one free child's admission to the Presidential Museum, valid until December 31, 2017.For more info click here!
November 30: The VIllage of Sherman Tree Lighting: The 1st Annual Tree Lighting Ceremony will be held at the new village park roundabout. See Santa, enjoy the music of our WHS Madrigals & Chorus and hot chocolate/cookies at 6:00 p.m
December 1 Appalachian Christmas Quartet in Concert 7-8 pm at West Side Christian Church. Christmas folk concert featuring over 100 instruments! Facebook event.
December 1st: Snow Globe UIS Music 7:30-9:30 Come join us for a fantastic night of music and imagery celebrating holiday music from Ireland, Canada, China, Greece, Ukraine, and more! The UIS Band under the direction of Applied Music Specialist, Abigail Walsh will open the multi-cultural holiday program with works including traditional carols arranged for band, Leroy Anderson's "Sleigh Ride", and Sean O'Loughlin's "Imani", a piece inspired by traditional African instruments and in celebration of Kwanzaa. Brass and string Camerata ensembles will perform a Spanish lullaby turned carol and "Zorbas Dance (Syrtaki)" by Mikis Theodorakis. The concert is free and open to the public. Donations are welcome and will be used to benefit the UIS Music Student Merit Award.
December 1 Polar Express Pajama Storytime at Barnes and Noble. All aboard! Come in your PJs and join us for a magical evening as we host our annual Polar Express Storytime. Coloring and activities to follow, including writing a Dear Santa letter!
December 1 Holiday Walk in Staunton 5-8 pm. Stroll down Main Street. Most businesses will remain open and will offer food, drinks and special deals to get the holiday season started. Enjoy the festive window decorations, observe the live nativity, and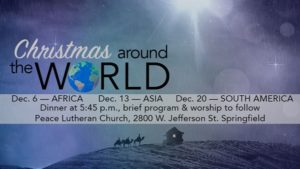 interact with special themed characters from "Once Upon an Occasion" in this relaxed, community focused, magical atmosphere. The festivities culminate at 8:00 pm when Santa himself will light the giant Christmas Tree on Main Street. Facebook event post
December 1 Polar Express Pajama Partyevent on Facebook at Barnes and Noble 7-8 pm. Cozy kids will listen to the classic story, write letters to Santa, and enjoy hot chocolate and cookies! Each child will also receive a bell to remind them of the story's iconic holiday message–Seeing isn't believing. Believing is seeing! See .
December 1-3 Carlinville Christmas Market. Small town holiday magic at the Carlinville Square. Caroling, crafts, trolley tours, Santa. 473-9048. carlinvillechristmasmarket.com
December 1-2 It's The Most Wonderful Time of the Year Presented by the Land of Lincoln Barbershop Chorus, "It's the Most Wonderful Time of the Year" is a special holiday show with soothing barbershop harmonies sure to put you in the holiday spirit. The Hoogland Center for the Arts 7:00pm Tickets Here
December 1-2 Virden Country Christmas. Everything kicks off on Friday evening with a lighted Christmas parade. Santa arrives in town on the final entry in the parade and then takes up residence in his house on the square to visit with his favorite little people! The fun continues after the parade as you can: Stroll the square and vote for your favorite decorated Christmas Tree; Visit the Country Christmas Craft Fair; Get your picture taken with Santa; Ride the Trolley; and more. Saturday morning get ready for "Breakfast with Santa" at the Virden Community Center. Shop the stores in Virden and watch for special surprises like nostalgic push cart ven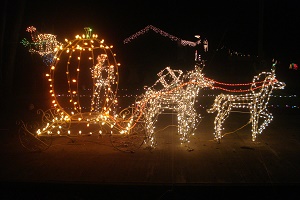 dors, special story time, strolling carolers, and a live nativity scene.
December 1-2 A Storybook Christmas in Hillsboro. 5-9 pm Friday; 8 am – 2 pm Saturday. Beloved characters from Christmas stories fill the streets of Hillsboro. Christmas parade at 6 pm Friday; tree lighting at 7 pm Friday. Food and drinks, live entertainment and more. Free. 313-9952 for more information. imaginehillsboro.org
December 2 Elf on a Shelf at Macy's – Girl Scouts invites you to join them at the Macy's Elf on the Shelf and White Oaks Mall Polar Express Event. Come dressed in your pajamas to ride the Polar Express train! Then head to Macy's to find the Girl Scout Elves hiding inside Macy's with goodies to share! The Girl Scouts will help you write a letter to Santa and for every letter written, Macy's will donate a $1 to the Make-a-Wish Foundation. Fun, prizes, and a special holiday discount for any girl that joins Girl Scouts! Noon to 2 pm. See Facebook event post.
December 2 Christmas At Clayville – at Clayville Historic Site, Pleasant Plains. 10:00 AM – 4:00 PM. Caroling Groups throughout the day. Childrens Store. Face Painting. Refreshments. Santa will be there all day. 572-4984. http://clayville.org
December 2: How the Grinch Stole Christmas at Barnes and Noble Special Event, Children's Event, Storytime (Childrens) Saturday December 02, 2017 11:00 AM This classic, heartwarming story about the effects of the Christmas spirit will grow even the coldest and smallest of hearts three sizes. Activities to follow.
December 2 Keeping Christmas candlelight chapel service presented by Elkhart Historical Society. Slots at 2 pm , 4 pm, 5:30 pm and 8 pm. As the number of seats are very limited, please call 217-947-2238 and make your reservation as soon as possible. elkharthistoricalsociety.org
December 3 Frostbite Festival – 2M and 10M race. 9 am – noon. Facebook event
December 3 AUMW Holiday Home Tour – 26th annual home tour by the Auburn United Methodist Women. 1 pm to 4 pm. Complimentary refreshments and cookie walk starting at 12:30 pm at the church. Tickets sold on the day of tour at the church.
December 6 The Alley Cats in Jingle Bell Rock The Hoogland Center for the Arts and Solomon Colors present a return engagement of the Alley Cats in "Jingle Bell Rock," a harmoniously hysterical holiday hit! The Alley Cats have appeared at Disneyland's "Blast to the Past," as well as on the Tonight Show with Jay Leno and as his opening act in Vegas. 7:00pm Ticket info here
December 6 Angel of Hope Candlelight Remembrance Ceremony – the Angel of Hope statue was placed on the garden grounds to provide families with a place of honor and remember children they've lost. Every year the public is invited to attend this candlelight ceremony. 7 pm at Washington Park Botanical Grounds. Free.
December 9-10 Springfield Ballet Company's

The Nutcracker Ballet
A Grand Holiday Tradition! Always a beautiful show with costumes, sets and dancing to delight kids of all ages!

Purchase tickets online at Sangamon Auditorium or Call 217-206-6160. Two Shows on November 9th: Saturday 2 pm and 8 pm; Sunday 2 pm. Adults $33 Youth $21 for tickets purchased ahead of time. springfieldballetco.org/performances/the-nutcracker
December 8-9 A Walk Through Bethlehem at Elkhart Christian Church. A walk through the streets of Bethlehem – walk with shepherds and hear the angels. Along the way, you'll encounter an eclectic mix of soldiers, beggars, prisoners, and tax collectors, through a maze of people and places, in order to find the place where Jesus was born. Free and open to all. elkhartcc.org
December 8: All is Bright at Allerton Park. Take an enchanting stroll through illuminating lights and festive music on the Kirby Winter Wellness Walk(5-8pm). Stop by the Visitor Center for Natural Ornament-Making with the Monticello Area Arts Council ("open house" format from 4-7pm), and complimentary popcorn and hot chocolate. Mamma D's Smokehouse food truck will be in the Meadow — gather around the fire at the picnic tables to enjoy their gourmet mac and cheese, pulled pork, beef, chicken, and warm apple dumplings (available for purchase)! Warm-up inside the Mansion — we'll be kicking off the Holiday Showcase (5-8pm; $10/person) with live music, a cash bar, Mansion tours (5:30pm and 6:30pm), and a variety of vendors selling their unique products, handcrafted wares, and baked goods. Purchase tickets here
December 9: Springfield Jaycees 2017 Annual Christmas Parade beginning at 7:30 pm in the heart of downtown Springfield. The parade will start from the Horace Mann parking and loops around the Old State Capitol on 5th and 6th Streets.
December 9: Christmas at the Front 4 pm – 8 pm. Living Historians tell how Soldiers celebrated Christmas during 4 conflicts: Revolutionary War, Civil War, World War I and World War II. Hear holiday carols by local choirs. Cookies and hot beverages available afternoon and evening. At the Illinois Military Museum – more information here.
December 9: A Historic Christmas at the Abraham Lincoln Home. 1pm-5pm Back by popular demand, this award-winning program allows visitors to step back in time and admire the beautiful decorations of holidays past. Meet Mr. and Mrs. Lincoln, make holiday crafts, and tour the holiday-decorated Lincoln Home. Tour tickets are free and can be picked up at the Visitor Center front desk, on a first come first serve basis. Come early in the afternoon before free tickets run out. The Lincoln Home Visitor Center is located at 426 S. 7th Street, Springfield, IL. For more information, contact the Lincoln Home Visitor Center at 217-492-4241.
December 9th Toy for (Tater) Tots: Musical Sing Along with Tater Tot Rocks Join Tater Tots Rock at page261 10am at 1340 S State St. Springfield IL for a fun morning of singing & dancing!Admission to this event is FREE with a new unwrapped toy that we will be donating to Toys for Tots.We will have coffee and snacks available! After the sing along you can shop the Kids Holiday Spot at page261 where kids can find the perfect gift for thier family for the holidays. We will help them make a card and wrap their gift too!
December 9: Olaf's Adventure Special Event at Barnes and Noble, Children's Event, Storytime. 11:00 AM Join us as we follow Olaf, Anna, Kristoff, and Elsa through a frozen adventure to find the best holiday traditions. Activities to follow.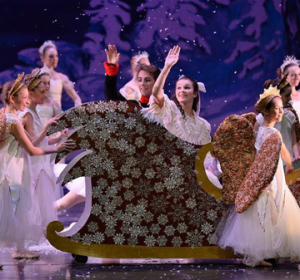 December 9-10 Springfield Ballet Company's The Nutcracker Ballet Tickets at Sangamon Auditorium 217-206-6160. Saturday 2 pm and 8 pm; Sunday 2 pm. springfieldballetco.org/performances/the-nutcracker
December 9-10 Candles and Carols at St. John's – Christmas Cantata. 5 pm Saturday and 8 am & 10:30 am on Sunday. Mark Hayes' Candles and Carols, a beautiful work presented by the Chancel Choir and Orchestra. This candlelight Advent journey celebrates the traditional themes of hope, peace, joy and love, culminating with the birth of Christ. Musical selections included: O Come, O Come, Emmanuel; Come, Thou Long-Expected Jesus; Hark! The Herald Angels Sing; How Great Our Joy; Love Came Down at Christmas; and Silent Night. The narration relates to the wisdom of ancient scripture as well as to our 21st-century lives. Each Carol has a new, contemporary verse which adds relevance to their meaning in today's world. All are invited. Childcare will be provided.
December 10 Caroling at the Carillon: Sing holiday carols accompanied by the Carillon next to a roaring bonfire. Cookies and hot chocolate plus a special visit from Santa. Free and for all ages! 4:00 p.m.-5:00 p.m.
December 10 A Calvary Christmas Get in the Christmas spirit with a fun filler night of Christmas music featuring Calvary Big Band, our adult and kids choir and more! Make sure to dress in festive attire and join us for cookies and cocoa after the concert. 6 pm at Calvary Church 501 West Hazel Dell Road.
December 10 The Little Drummer Boy: A Christmas Kids' Musical at Springfield First Church of The Nazarene, 5200 S 6th St Rd, Springfield. 10:30 am – noon. See Facebook post for more details.
December 13 Gaslight Christmas Tours 6 pm and 7:30 pm. Come see Edwards Place by gaslight on this special evening tour. The first floor of the mansion will be decorated for the holidays in the 1860s. Learn about Christmas celebrations in the mid-19th century from Helen Edwards and her friends and family, and then enjoy cider and gingerbread after your tour. $10 tickets will be available after Thanksgiving. edwardsplace.org
December 16 Springfield Figure Skate Club's Annual Winter Exhibition and Public Skate. 2-5 pm. At The Nelson Center, 1601 N 5th St, Springfield. An afternoon of holiday music, a visit with Santa and figure skating! Skaters will take the ice at 2:00 p.m. and will then join the crowd for a public skate from 3:00 p.m. – 5:00 p.m. Free show admission with canned good or other nonperishable food item. Free ice skating and skate rental for anyone donating at least two canned goods per person. A $5 donation can be made in lieu of canned goods.
December 16 Victorian Christmas Tea at 2:00-3:30 pm at Edwards Place. Learn about 19th century holiday traditions and practices over tasty tea and delectable desserts. There will be carols to sing, holiday stories to share, and a special Victorian-themed souvenir to take home! A great event for grandparents and grandchildren, or parents and children! Tickets available after Thanksgiving. edwardsplace.org/upcoming-events
December 16 Holiday Concert by Jacksonville Symphony Orchestra and Chorale. At Illinois College's Rammelkamp Chapel, 1101 W. College Ave., Jacksonville. Tickets are $18 at the door. Call 243-4678 or jaxsym.com for more information.
December 16: River Rose and the Magical Christmas Storytime Special Event Barnes and Noble, Children's Event, Storytime (Childrens) Saturday December 16, 2017 11:00 AM It's Christmas Eve and River Rose wants to stay up all night to hand-deliver a note to Santa, but she and her dog fall asleep only to find they've been swept off on another magical adventure. Activities to follow.
December 15-17 A Charlie Brown Christmas Presented by the Hoogland Education Department, the classic animated television special "A Charlie Brown Christmas" comes to life in this faithful stage adaptation, in which Charlie Brown, Snoopy, and the rest of the Peanuts Gang discover the true meaning of Christmas Ticket info here
December 15-17 The Dual Piano Christmas Show 7 pm Friday and Saturday; 21 pm Sunday. Hoogland Center for the Arts presents Dual Piano Christmas — some of your holiday favorites coming from two pianos, four hands, and two talented and creative brains let loose for an evening of fun. From Broadway to Classical; swing to jazz; playing and singing, Mark and Damien treat each song with a combination of deep respect, excellent musicianship and just a hint that things may not be exactly what they seem.
December 16 & 17: Visit Santa's Reindeer at Scheels from 11 am – 6 pm. In the Scheels parking lot.
December 17: Luminaria Sunday at Dana-Thomas House. 5 pm – 10 pm. 301 E Lawrence Ave Springfield. Visit the Dana-Thomas House as the exterior of the home will be lined with 1,000 candles and guests can take a silent tour of the beautiful interior accompanied by holiday music. Free. 217-782-6776
December 20. Christmas Around the World: Advent at Peace Lutheran Church – FREE and open to the public. Come touch, taste and hear about how Christmas is celebrated in other cultures during our Christmas Around the World series Wednesdays Dec. 6, Dec. 13 and Dec. 20. Dinner will be served starting at 5:45 p.m. and program beginning at 6:30 p.m. followed by a short worship service. A special drawing for a Christmas keepsake will be held each night. December 6th features African cultures, Dec. 13th features Asian cultures and Peru on Dec. 20. Peace Lutheran is located at 2800 W. Jefferson in Springfield. Please RSVP to help us plan for food. The event is free and open to the public. More detailed information here.
December 2-20 The Annual Winter Holiday Floral Show noon – 4 pm M-F; noon – 5 pm weekends. Floral Show at Washington Park Botanical Garden. The Conservatory will be filled with poinsettias along with its the tropical collection. Poinsettias, tropical plants, and evergreens will overflow the Exhibit Hall for a stunning display. 1740 W. Fayette Avenue, Springfield. springfieldparks.org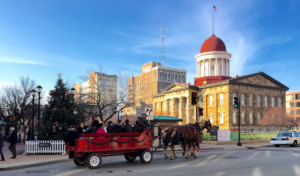 December 20: Old Capitol Holiday Walks in downtown Springfield. Shop, dine and drink local: Santa and Mrs. Claus in the Old State Capitol, rides in a horse-drawn carriage, musical performances, vote for your favorite window displays, pop a letter into the Santa mailbox — all for free. In 2017, we've added: President Lincoln and one of the best shoppers of all time—Mary Todd—greeting you, dancing SYPG elves on the Plaza, a designated Holiday Walks bus between downtown and participating historic sites, chestnuts roasting on the Plaza, more pop up shops and a lighted Menorah. More information on DSI's website.
December 20: Holiday Family Reading Night 4 pm at Family Communication Centers, 817 E. Enos, Springfield. Holiday book giveaway and family reading night. 717-0195.
December 20: Eve Before You Leave Traditional Christmas carols with Holy Communion and candlelight. 7 pm at Springfield First , corner of Koke Mill and Wabash, Springfield. 793-9760. Springfieldfirst.org
December 22: Teen Holiday Hangout at Rochester Public Library; 5:30-8:30 pm. Bring your favorite snack and a friend, and the library will supply soda and music! Take some time to relax just before the holidays. Wrap something from your room and we will have a hysterical white elephant exchange. Wear your ugly Christmas sweater! rochesterlibrary.org
December 22: It's a Wonderful Life – on the Grand Screen at The Legacy. A holiday tradition – just like the good old days…the Legacy's theater is filled with Christmas music, the scent of popcorn is in the air; the lights dim, the red velvet curtain parts, and glorious movie magic begins! Bring the whole family for this special holiday treat! Concessions/Bar Open at 6:30pm, It's a Wonderful Life begins at 7:30pm
Tickets are $10 at the door, or $5 with a non-perishable food donation for the Kumler Food Pantry. 101 E. Lawrence, Springfield. atthelegacy.com
December 23: Santa's Magic Key Storytime Special Event at Barnes and Noble, Children's Event, Storytime (Childrens) 11:00 AM In this unforgettable holiday story, a boy realizes on Christmas Eve that his new house does not have a chimney. With the post office closed and Santa coming by the end of the night, he has no way of telling Santa. But when the boy finds a mysterious key, he'll soon discover just how this key will solve his problem. Activities to follow.
December 23: Miracle on 34th Street on the Grand Screen at The Legacy. When Macy's unwittingly hires the real Kris Kringle as their department store Santa, he fills everyone with Christmas spirit, except his boss, who is rasing her daughter to not believe in Santa Claus.
It's a holiday tradition – just like the good old days…the theater is filled with Christmas music, the scent of popcorn is in the air; the lights dim, the red velvet curtain parts, and glorious movie magic begins! Bring the whole family for this special holiday treat! Concessions/Bar Open at 6 pm, Miracle on 34th Street begins at 7 pm. Tickets are $10 at the door, or $5 with a non-perishable food donation for the Kumler Food Pantry.
December 22-24 Christmas at West Side: It's the most wonderful time of the year. West Side offers a creative and engaging program for the whole family. Be sure to arrive early to find a parking spot, grab a warm cup of joe and snag a good seat. wschurch.org/Christmas Free childcare provided for birth-5 years old. December 22 – 7:00pm; December 23 – 7:00 pm; December 24 – 9:00am, 11:00am, 2:00pm, 4:00pm
December 24-25. Chatham Light Up the Park drive-through light display at Chatham's Community Park. $5 suggested donation.