Keep checking back for updates!
Click here to see other holiday listings, including Holiday Happenings, Holiday Classes & Lessons, Cookie Walks, Santa Visits, and More!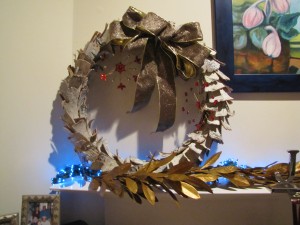 Past 2015 Events
Nov. 7-8 Hope for the Holidays Fine Art & Craft Fair 10 am to 5 pm Saturday and noon to 4 pm Sunday at Hope Presbyterian Church, 2211 Wabash Ave. Artisans featuring watercolor, photography and ore. Free admission. 546-6951.
Nov. 13-14 Christmas Craft Show at Mt. Zion Convention Center, 1410 Mt. Zion Pkwy, Mt. Zion. 70 local craft vendors with holiday collections, Friday 7-9pm, Saturday 9am-3pm, 864-5424. Free admission. Concessions available. facebook.com/Mt-Zion-Christmas
Nov. 14 Little Flower Holiday Craft Bazaar – Over 60 exhibitors of crafts and fine craft items. Bake sale and food concession. In lieu of admission charge, bring canned food items.
Nov. 14 Craft Show for Loami Food Pantry at New Berlin's Knights of Columbus Hall. 9 am to 4 pm. For more info, call 624-1902.
Nov. 14 Holiday Craft Bazaar in Pleasant Plains 8 am to 2 pm in the Pleasant Plains High School. Hosted by the Pleasant Plains Community Club. No admission charge. Food available for breakfast and lunch. 50 vendors for gifts, antiques, crafts and holiday decor. Children's cookie corner.
Nov. 14 South Fork Holiday Fiesta 9:00 am – 3:00 pm. Annual Holiday Fiesta in Kincaid, IL. Many vendors to shop from, many homemade, a holiday shop just for the kids- priced for kids to shop from, kids crafts, photos with Santa and so much more! facebook.com/events/255029868016619/
Nov. 14-15 Annual Holiday Market at Lincoln Memorial Garden. 9-5 Saturday; 1-4 Sunday. One-stop shopping for holiday gifts, decorations and handmade ornaments. lincolnmemorialgarden.org
Nov. 15 3rd Sunday Market Holiday Show 8 am – 4 pm at Interstate Center 2301 W Market St, Bloomington. Antiques, crafts, Christmas things, and food! facebook.com/events/448923275309604/
Nov. 18 Craft and Vendor Fair in the Alzina Building (First and Jefferson) from 9-3. Come by to do a little Christmas shopping. The entrances to the building are on First Street and everything is on the first floor in the hallways. There's parking on Jefferson and on Washington if you're driving.
Nov. 20 Christmas in the Park at Country Place Condo Clubhouse 4-8 pm. Free. Located 1/2 mile east of Toronto Road and 1/2 mile north of North Cotton Hill Road in Springfield. For more information, call 626-1738.
Nov. 21 Holiday Farmers Market from 9 a.m. until 1 p.m. in the Illinois Building at the Illinois State Fairgrounds. At least 35 vendors from central Illinois selling a wide variety of products, including pasture-raised turkeys, pork, beef, poultry, eggs, cheese, honey, and Illinois wine. Fresh greens, garlic, potatoes, squash, radishes, carrots, apples and many other varieties of produce will also be available. Not only is this an opportunity to purchase delicious, seasonal food for the upcoming holidays, but it also gives you one last opportunity to stock up on local foods before the winter. Lunch will be available for purchase and the University of Illinois extension will be hosting kids' activities, making the holiday market a family friendly affair. This event is free and open to the public. facebook.com/events/936691186367228/
Nov. 21 8th Annual Chatham Holiday on the Square. 10 am 'til 2 pm. Over 40 different vendors to shop with! Santa and Mrs. Claus; Free "Frozen" mini golf; Free kids crafts. On the Square in Chatham! Corner of Rt 4 and Mulberry. Toy donations welcome for Toys for Tots! facebook.com/ChathamHoliday
Nov. 21 Fall Bazaar at Laurel United Methodist Church, 631 S Grand Ave W, Springfield. Homemade gift items. Facebook page here. Contact Judy McEvoy, Director of Lay Ministries , at 525-1866 or jmcevoy@laurelumchurch.org for more information.
Nov. 28 Christmas at Sugar Creek Vendor Fair, At Sugar Creek UMC, 1022 New City Road, Chatham. 10:00 AM – 3:00 PM Free Admission. Please bring a non-perishable food item for the food pantry. 483-2270 www.sugarcreek.org
Dec. 4-5 Carlinville Christmas Market at The Silver Owl, 514 N Side Sq, Carlinville. 3-9 Friday; 9-8 Saturday.
Dec. 4-5 Alternative Holiday Fair at First Church of the Brethren, 2115 Yale Blvd, Springfield. Friday Dec 4th 4 to 8 PM; Saturday Dec 5th 8 AM to 2 PM. Unique handcrafted Items – Bake Sale – Lunch Sat 11-2. Featuring fair trade goods, coffees and teas, lots of unique items – baskets – jewelry – scarves. Great Christmas Gift Ideas. Call 217-523-5212 for more information.
Dec. 5 ALUUC 3rd Annual Arts & Craft Fair from 10 am – 3 pm. Also a visit from Santa & Mrs. Claus starting at 1 pm!  This sale is open to the public, and there is no entrance fee. Vendors with a wide range of merchandise for sale. At Abraham Lincoln Unitarian Universalist Congregation, 745 Woodside Road, Springfield.
Dec. 5 Holly Fair at St. Anthony's Greek Orthodox Church, 1600 S. Glenwood, Springfield. 522-7010. Hot lunch (eat-in or take-out) of gyros, poor boys, and vegetable soup. Also greek pastries, crafts, spinach pie, baklava, and more.
December 5: Christmas Bazaar & Cookie Walk 9 am to 1 pm at Sherman United Methodist Church, 2936 E. Andrew Road, Sherman. 496-2338 ext. 5.
Dec. 13 Springfield Holiday Giant Flea Market. Features exhibitors displaying and selling all types of items including collectibles. Hours: 8:30am-4:30pm