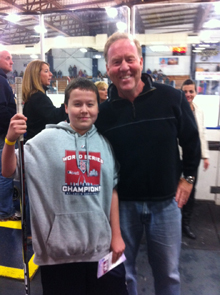 Hockey games are new for our family, and I'm so glad we were introduced to this great sport. SpringfieldMoms.org is a proud sponsor of the Springfield Junior Blues in their 20th anniversary season.  For those of you who don't know much about hockey, it's a fun night out with the family.  These players are amateur/student athletes competing in a professional environment who aspire to compete and study at the collegiate level. Only one of the Junior Blues team members hails from Springfield IL; the rest are from all over the country.  Thanks to the numerous local families who open their homes to become a billet family for the out of town players!  Admission for adults is $10, Kids under age 18 are $5 admission. 
There are some fun things going on between periods.  The boy to the left won 6 gourmet cupcakes from Cafe Moxo for shooting the puck in the goal, and many kids had a blast doing the "chuck a puck" for $1 to win a chance for free merchandise.  Cheap and affordable snacks are for sale from Quaker Steak and Lube plus beer, soda, soft drinks as well.
The first two weekends the opposing teams are traveling from Alaska to compete!
It's really fun to see these kids working hard and competing against teams from around the United States.  
Owner Dan Ferguson notes, "Jr. Hockey is an integral part in the process of becoming a collegiate athlete, and our goal is to lead the charge in developing quality hockey players and productive members of the community."
View their full schedule here!  We hope to see you at the Nelson Center soon.  Support our local team and cheer them on to victory while enjoying some quality family time!