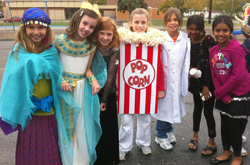 Simple and SPOOKtacular Ideas for Fall and Halloween Parties
Here are a few simple and fun ideas for Fall & Halloween parties, for your home and for the classroom!
Pre-School and Kindergarten
Think stations! Younger kids love to lots of different things. Divide your dining table or the classroom into 2-4 stations, then have the kids rotate from station to station and enjoy!
Have two stations for crafts, a third for making a Halloween treat and the last station for a quick game.
Craft suggestions
Lollipop ghosts. Take a Tootsie Pop, cover it with a tissue, tie it with a piece of yarn at the neck of the lollipop and then make a ghost face with a black marker on the tissue.
Q-tip skeletons. These are such fun! It takes about 10-15 Q-tips per child. Glue Q-tips on black construction paper. Use some for the rib cage, some for the legs and some for the arms. Then pre-cut the skull using white construction paper and glue to the black construction paper.
Egg carton spiders. An egg carton spider is one section of the egg carton cut and turned upside down for the body of the spider. Then attach different colors of pipe cleaners for the spider legs at the sides or top.
Black cup bats or white cup skeletons. Black cup bats and white cup skeletons are just plain colored cups turned upside down to make cute creatures. Pre-cut bat wings, skeleton arms and skeleton legs. Then at the time of the party, have the kids attach the appropriate parts to the cup with glue or tape. Add some "googly eyes" for extra fun!
Treat ideas
The best treats include a hodgepodge of different items the kids can put together and then eat.
Have them use icing on graham crackers and then use candy corn to make a pumpkin face on top of the icing.
If healthy is more desirable (since they'll have enough sugar Halloween weekend!), make cheese spiders. Cut blocks of cheese and then have the kids put pretzel sticks in the body of the cheese to look like a spider.
Games
Do a quick word search or maze worksheet. These can easily be found on the Internet.
Older Grade Ideas
For older kids, I recommend lots of games and a snack or a larger craft idea and then a quick game.
Fun games
• The Mummy Wrap. Mummy Wrap is where you take toilet paper and wrap each participant in toilet paper from head to toe against a time limit.
• Musical Tombstones. Musical tombstones is just musical chairs, but decorate the chairs to look like tombstones.
• Boo Bingo. Boo bingo is bingo with a Halloween theme. Use candy corn as the bingo markers. This bingo game can be printed out if you go to dltk.com and then search for bingo games.
Crafts
Make individualized haunted houses. Have the teacher save milk cartons from lunch a couple weeks ahead of time. Rinse out and air dry. Then on the day of the big party, have construction paper, glue and markers available for the kids. They can paste the construction paper onto the milk carton and then start customizing their houses with windows, smoke stacks, roofs, etc. from different colored construction paper.
Whatever the idea, game or snack, just BEWARE of the fun that is sure to come! Happy Halloween!
Submitted by Springfield Moms Advisory Board member and idea queen Allison Klint.
Check out our Pinterest Board for more Fall Party ideas!
pinterest.com/springfieldmoms/class-party-ideas-fall/