Kids love dressing up for Halloween but buying new costumes every year can be expensive AND there's an environmental impact to using a costume once and then throwing it out.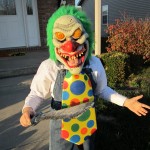 The Chatham Area Public Library is hosting a Halloween Costume Swap. Simply bring an outgrown or no longer needed costume and go home with a new costume.
You'll be ready for the big night while helping your wallet and the earth at the same time!
The Costume Shop will be held from 1:00-3:00 pm in the library's gallery.