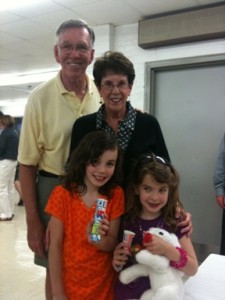 Of all the gifts a grandparent might hope for on Grandparents Day, a few stand out. Not all of them can be wrapped up in pretty paper and ribbons, but if you're looking for a meaningful gift for a grandparent, consider these ideas.
 Art — but not the kind you purchase in expensive galleries or fancy museum shops. Grandparents hope for kindergarten pictures, art class projects, a handmade card. If it's dropped into the mail, dated and signed, with a handwritten note on the back, even better.
 Phone calls — and if it's a Skype call, you get double brownie points.
 Invitations — to come over for dinner, or a birthday party, or even just a cup of tea; any time we get to spend with you and your children is a blessing. We like to be included, and when we can, we enjoy coming to games and lessons, programs and concerts, plays and fairs.
 Photographs — framed, unframed, online or hard-copy. We may not display every one, but you can be sure they are cherished and looked at regularly. We especially enjoy those two-generation photos of you with your children. And it's nice to be invited into the photographs, too; someday those photographs of us with your child will be precious to both of you. 
News and stories about everyday life at your house. We love to hear stories of our grandchildren and how they are growing and changing, or what they are doing at school or Scouts or church. Whether it comes in a letter, a phone call, or an e-mail, we cherish being included in your day to day lives, even if only second-hand. 
Cookies you've baked with your child, or flowers from your garden, or something you and your child created or crafted together. 
Questions, or requests for a story about our lives, even if you've heard the answers before. You don't have to follow our advice or agree with our opinion; it's the respect, the interest and listening that matters. 
A commitment to nurture the relationship between your child and his grandparent. Parents benefit from loving encouragement from an older generation; children benefit from family members who love them no matter what. 
These gifts of the heart are more than a Grandparents Day remembrance; they build the relationship between grandchildren and grandparents in healthy ways.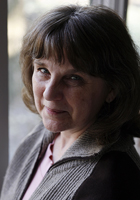 Submitted by Springfield Moms contributor Holly Schurter.  Holly is married to John and the mother of eight children, grandmother to thirteen (four of whom live in Springfield).  She works as a mentor at Heartland Community College and is also a freelance writer.