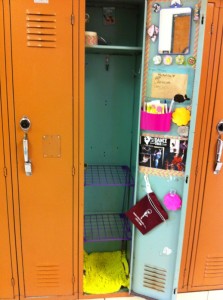 Does your child want a unique "inside of the locker" that expresses all that he or she is about? Of course! Thanks to Springfield Moms Advisory Board member and contributor Allison Klint for these fun ideas!
My daughter has already planned out her locker decor!
The "must haves"
A magnetic dry erase board
A magnetic mirror
A locker shelf
A magnetic organizer for pencils/pens
Magnets
Magnetic strips
Carpet, foam or cork for the bottom of the locker so books stay put
Now that you have the must haves, it's time to personalize them. Gather any scrapbooking odds and ends you might have around the house. Don't forget the glitter, buttons, stickers and favorite photos. Other items might include favorite teams, bands or just plain office supplies like paper clips and binder clips.
Next, think of a theme or at least a color theme. This will help you stay focused. There isn't that much space in a locker, so less is more.
Ideas for the dry erase board/mirror:
Hot glue buttons on frame.
Glitter your jersey number on the frame.
Cut out felt jerseys, basketball, soccer balls, etc. to glue on frame.
Hot glue colored paper clips around border.
Glitter the frame with your favorite color of glitter.
Glue ribbons/bows on the frame.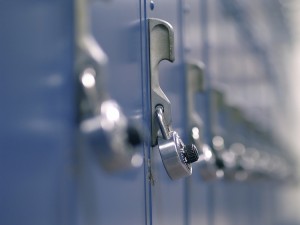 Ideas for pen/pencil organizer:
Monogram your organizer with scrapbooking letters
Glue mini photos on to the base of the organizer
Ideas for the magnets/magnetic strips:
Cover with glue and then dip in glitter
Personalize with photos
Monogram with your initials
Cover with fabric
Cover with scrapbook paper, stickers, ribbons
Hot glue a fake flower on top
Other ideas:
Make a photo collage on a sheet of heavy paper. Attach magnetic strips on back.
Cut out magazine pics of favorite band and make a collage. Attach magnetic strips on back.
Print out your favorite sayings or text message sayings. Attach magnetic strips on back.
You'll be surprised all the ideas your child will come up with. These are just for starters. Run with it. Your child will have a locker that is all her! (or him!)