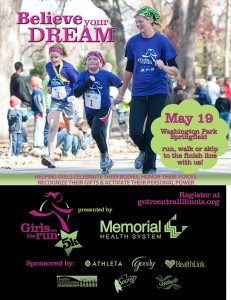 The spring 2012 Girls on the Run (GOTR) non-competitive walk/run will be held at Washington Park in Springfield, Illinois. This program season, over 500 girls age 8 to 13 from 32 schools are participating in the GOTR curriculum which focuses on teaching self-respect and healthy lifestyle choices. The program season ends with the 5k race that celebrates their training.
On May 19th, join up to experience the excitement of reaching the finish line with our program participants and their families and friends.
Starting at 8:30 a.m. on the morning of the race, there will be a family-friendly festival with face & hair painting (free), fun activities (free and fee) and photo opportunities. GOTR apparel items will also be available for purchase. Post-race activities will be available until noon.
Get a discount by registering online! Click on the GetMeRegistered logo on the Girls on the Run website to get started. Online registration is $25 through 5/4 and $30 from 5/5-5/17. If you register by May 4th, you are guaranteed a race t-shirt!
For more information, call the GOTR office at 726-9808.