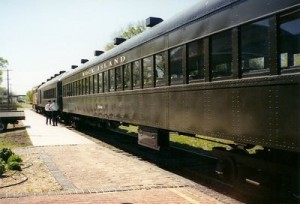 October 22, 23, 28, 29, 30
Ghost Train at the Monticello Railway Museum in Monticello. Hop in the Monticello boxcar for a haunted ride through Camp Creek Hollow and a scary story on Cemetery Road. Held at the Monticello Railway Museum.
Ghost train is the most unique haunted experience in Illinois combining a train ride through the haunted hallow and view jack o' lanterns, the giant spider, haunted castle, flying witch and surprises on the train. New for 2011 giant 13' tall animated grim reaper outdoor display and grannies haunted attic in the haunted boxcar.
Ghost Train ticket prices are $6.00 each ages 2 and up and includes train ride and admission to the haunted boxcar. No advance ticket sales. They offer free parking, rest rooms, food tent and a gift shop for that special souvenir. This event happens rain or shine.
Trains run every 30-minutes 7:00 p.m. through 9:00 p.m. 22nd, 28th and 29th;
Children's matinees 22nd and 29th 1:00 p.m. through 2:30 p.m.
22nd and 29th evening trains 7:00, 7:30 and 8:00 p.m. only
Check out the web page www.mrym.org/halloween.html. Make the Ghost Train one of your favorites on Face book to receive updates for events and projects at the museum!
Phone 217-762-9011  www.mrym.org
Monticello Railway Museum 992 Iron Horse Place Monticello, Illinois 61856
Monticello Railway Museum is located off I-72 exit #166 between Champaign and Decatur, Illinois. Museum phone 217-762-9011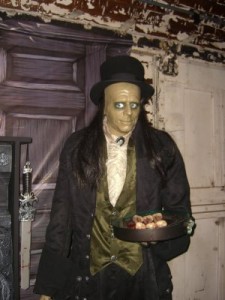 All proceeds from the event are used for restoration and operation of historic trains at the museum.