It's that time of year again…back to school! But for many it's the START of school. Getting ready for Kindergarten can bring many emotions such as fear and anxiety, and hopefully excitement. I have been there and I think it was harder for me to prepare than for my daughter! Whether it's you, your child or your spouse needing helping preparing for the big day, here are a few things to hopefully make the transition easier for you all!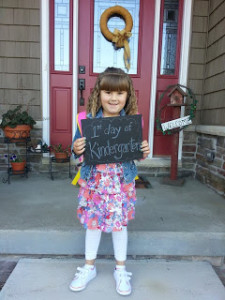 Get your child involved in back to school shopping. Take them with you when it's time to buy their supplies. Let them pick out a backpack they love and will be excited to carry to school each day. Or maybe you could let them pick out a special outfit to wear on their first day. My daughter loved picking out scissors in her favorite color and a new backpack!
When I went to Kindergarten, we only went half days and we'd lay down on mats for rest time! My daughter thought that was pretty funny when I told her! Sharing your experiences with your child can be a great way to get their curiosity piqued and help with the excitement about starting school.
Visit your local library or bookstore to check out some books about starting Kindergarten. A few of our favorites were…Miss Bindergarten gets ready for Kindergarten by Joseph Slate, The Night Before Kindergarten by Natasha Wing, and Ready for Kindergarten, Stinky Face? by Lisa McCourt
Most schools have a meet the teacher night a few days before school starts. This is a wonderful opportunity for your child to see the layout of the classroom, meet their teacher and even chat with some of their fellow classmates. When I went with my daughter to meet the teacher night, we also walked around the school building getting a feel for the layout, everywhere from the library to the playground!
Set up an area in your home where your child will keep their backpack; whether it's a hook, basket, or special spot in their room. We have some hooks in our mudroom where my daughter knows to hang her backpack and coat. Defining an area for school stuff will make life easier for you and your child when getting ready in the mornings. I also thought it was a good idea to have a place for all the papers coming in and out. I used an existing dry erase board we had and turned it into a school information board. We post the bus schedule, class specials list, letter chart and other important documents.
Once the first day of school came my daughter couldn't wait to get on the bus. Me on the other hand, I was a ball of nerves. Deep down I knew she would be fine but I needed a distraction. So I set up a coffee date with a friend. We chatted for a few hours and the rest of the day seemed to fly by. We both made it through the first day wonderfully and you will too!
This is the start of a great year of learning and new experiences for you and your child. Get ready, set, let the fun begin!
Submitted by Mandy Maple. Mandy is mom to Gracie and works as a preschool teacher, and writes on her blog, Creative Cents.