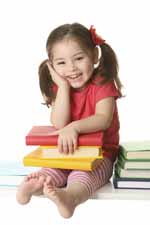 The beginning of kindergarten is a big event for everyone involved. As soon as anyone hears that a child is 5 years old, the inevitable question follows, "OH, are you going to KINDERGARTEN this year???"   However, amid all the excitement, if you are sending your little one off to kindergarten for the first time, it is very natural for some anxiety and nervousness to occur. (Your child may be anxious, but probably not as anxious as you are!)   As a veteran of a decade of "first days" for kindergartners, I can, with all confidence assure you that your child will be fine.   However, there are a few things you can do as a family to prepare for that first day of school and make the transition easier on everyone involved.
If your child's school does not have a "Meet Your Teacher Night" before the first day of school, call the school office and ask if you could come in and see their classroom and possibly meet the teacher before school starts. You will feel better knowing the environment your child will be in – and your child will have been able to experience their future classroom with you at their side. This makes for a much easier transition on that first day!
When you talk to your child about school, remember that the school experiences you recall are probably very different than a kindergarten classroom. You may remember sitting in rows of desks for long periods of time, which is fine for the upper grades, but it is not kindergarten. A kindergarten room looks and feels much different than the classrooms you may remember from your middle school and high school days. Children move a lot at this age. The classroom is designed for short legs and short attention spans. Kindergarten is a place scaled down to the size of five year olds. It has many centers around the room with areas made especially for the five year old child.
Try to read a few books about the beginning of school to your kindergartner. Here are a few I have found to be good reads: The Night Before Kindergarten by Natasha Wing; Miss Bindergarten Gets Ready for Kindergarten by Joseph Slate; Leo the Late Bloomer by Robert Kraus; The Kissing Hand by Audrey Penn.
The morning of that first day, even if your child has a few tears, it's best just to leave and let the teacher help the child make the transition into the classroom. I have NEVER had a child cry for more than 10 minutes on the first day of school. This can be very hard to do, but please trust the kindergarten teacher to know how to handle her class of students. 
Above all RELAX! Try not to be anxious. Your child will sense that feeling in you, and react to your feelings of anxiety. This is the beginning of a fun year of learning for your child. Get excited for a great year!
Submitted by Springfield Moms reader Sarah Pehlman, mother of two and former kindergarten teacher.