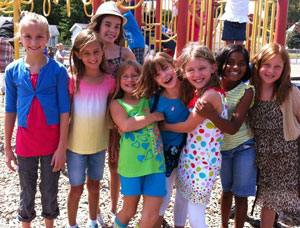 Abraham Lincoln's quotes are simple, honest and powerful. "The better part of one's life consists of his friendships."
I know we can all agree that as we get older, the impact and influence of our friends on our lives becomes more meaningful.  We can better understand how lucky we are to have friends through all ages and stages.  As a parent it's exciting to see my kids form those friendships and to see these friendships evolve from preschool, to elementary school, and now on the verge of middle school, etc.  Bottom line?  There are certain people we meet that we instantly click with, and it feels like we've always been friends.  There are others we become friends with because we are in similar groups or classes, but the common bond of working together and sharing the same space can bring out the best in learning from those new friends.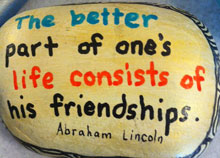 Everyone has something unique to offer others.  It's refreshing to watch my kids develop new friendships, and I love other kids over to play so I can enjoy the interaction.  I find it also makes me appreciate the people in my life that have been there at every age, stage and season of my life.  It's amazing how a simple phone call, card in the mail, lunch date or a night out with friends can be so rejuvenating!  Adults don't get recess and playtime with our friends every day; and I'm making sure to to reach out to my friends for moments big and small.   Thanks for the reminder Abe!