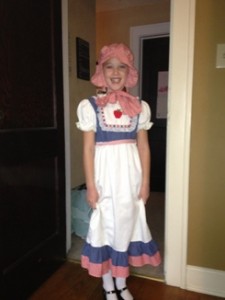 My kids have grown old enough that they don't play dress-up anymore, but when my oldest was younger, our dress-up bin was a popular area. He and his buddies were firefighters, construction workers, army guys and super heroes.
My second son was really into Spider Man. After my princess was born, we added tutus, fairy wings and tiaras to the dress up area. We have quite the coveted wig collection complements of my mom's stash from the 1960's. Our dress-up bins have always been simple – various sizes and assortments of Rubbermaid tubs full of Darth Vader and light sabers, Snow White's dress and matching red shoes along with beaded necklaces, fire hats and more. I thought I was doing a great job with my labeled tubs but thanks to Pinterest, I have found several inexpensive and adorable ideas. Check out these websites for more details and instruction.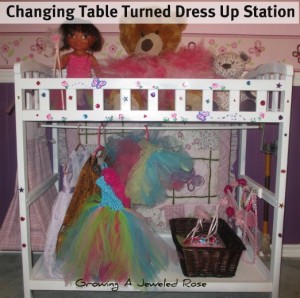 Turn your changing table into a dress-up station!
A perfect size dress-up area for your 2-3 year old – an old changing table.
– Add a rod for hanging mini outfits
– A jewelry organizer for mini jewels
– A bin for crowns, gloves etc.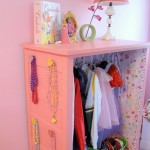 Turn a dresser into a dress-up closet!
Turn an old dresser into a little girl's dress up dream closet! I thought this idea was brilliant.
– Simple drawer pulls on the sides for jewelry.
– A hanger bar to hang mini dress up outfits
– Small tubs at the bottom for shoes & accessories
Make a Corner for Boys' Dress-Up!
A Boy Dress-Up Area
– Hooks (inexpensive) for hanging up firefighter & policeman jackets & hats
– A mirror for admiring
– Add a bin below for smaller accessories
I saw this idea on the above site. She purchased rails at IKEA.
– She used 1 (39″) & 2 (21″) BYGEL rails & hooks from IKEA
– Cost under $12.00
– Lots of room to hang a variety of girls & boys dress up clothes
If you don't have access to an IKEA – you could try the local hardware store for
towel bars.
The above ideas are adorable and don't take up a lot of space. No matter if you end up using a Rubbermaid tub or trying one of the cute ideas above, remember a few simple organizing tips
Keep it simple – keep a small variety – less is more. * enough to share with friends & siblings * kids don't need a lot of stuff to be creative
Don't keep torn or stained dress-up clothing.
Small bins, baskets & hooks are great for accessories.
A mirror of any size is a great touch.
Enjoy your little ones or big ones while they Imagine – Wonder – Discover!
Submitted by Springfield Moms reader and frequent contributor Amy Peterson. She is an organizational consultant and owns The Closet Guy and organizeUtoo with her husband Brooke. She lives in Springfield and is the mother of three children.