We all have stuff lying around the house that we want to get rid of, but don't know exactly what to do with it. Why not give away or trade the things you don't use for the things you really want?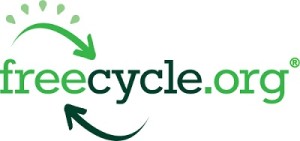 Freecycling is when a person passes on, for free, an unwanted item to another person who needs or wants an item. From silverware to mobile homes, people worldwide are choosing to "freecycle" rather than discard. Unlike other sites, Freecycle doesn't require a trade or swap—individuals simply share what they have with another person who would like the item—at no charge. Springfield is lucky to have an active group of over 3,500 "freecyclers" and an easy-to-use site in which individuals post items for taking or request wanted items. To sign up, go to www.freecycle.org and type in Springfield, IL. Springfield Moms reader and local author Mary Byers has used Freecycle to acquire a 30-gallon aquarium and find a new home for four kitchen chairs, an old-fashioned sled and nearly two dozen Mason jars. She reports that both her storage space and her wallet are in better shape because of Freecycle. Plus, she has the added benefit of knowing she's doing her part to keep items out of the landfill while simultaneously helping the individuals who have picked up her no-longer-needed items.
U-exchange.com is also a trading website that allows users to trade anything they want. It offers everything from cds to television to services such as legal services, salon services and anything else you could imagine. All you do is type in what you have to trade, and it tells you what is being offered in exchange and where the person offering it is located. You can even trade with individuals overseas. The site also offers Bartering 101 for beginners. Sign up is free, and all trades are free, too!
If you have used these websites, please share your experience with Springfield Moms readers through commenting on this article.