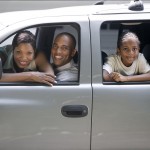 Enjoy this great get-away idea for an upcoming weekend with good weather – temps are supposed to be in the 80s!!  Sent in from Springfield Mom, Bonnie Williams.
"We had the BEST time at the St. Louis Zoo yesterday. The trees are blooming, and the animals were all outside enjoying the balmy weather. We usually go in the summer and swelter in the heat. The animals are swealtering too and hide in their dens to escape the strong sun and heat. At this time of year, you can see every animal attraction they offer. It was a fabulous day. The entrance is free, but they do charge for the train ride tickets. Many families were enjoying a picnic lunch, but the cafes did not have long lines!"
Thanks so much, Bonnie! 
Springfield Moms contributor Holly Schurter also recently visited the Missouri Botanical Gardens in St. Louis, located near the zoo. She reports that the flowers are spectacular there right now.  Everything's in bloom!  Read more about the St. Louis Zoo and check out our list of St. Louis Day Trip Ideas for much more!