Thanks to Rochester Mom Michele Tungett for this delicious recipe that's perfect for the grill.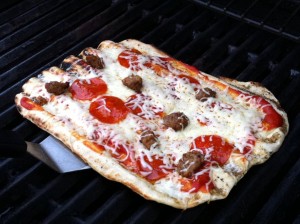 It's summer, and that means we will be using the grill a lot. Last year, we tried something new: grilled pizza! The recipe has quickly become a family favorite.
 Favorite pizza dough
Pizza sauce
Toppings
I use a homemade pizza crust, but a premade dough works well, too. Local friends find a nice dough from Mejier called Tiseo's–it's frozen and costs less than $2. For sauce, I buy a canned sauce called Pastorelli, it's made with all natural ingredients–also sold at Meijier. I'm still trying to come up with the perfect homemade sauce, but for now, this sauce works well.
Preheat gas grill to med-high heat and brush grates with olive oil.
Get your toppings ready by putting everything out in little bowls. It helps to have everything ready to go.
Cut dough in half (we cut ours in quarters so each person had their own pizza).
On a lightly floured surface, roll each dough ball into an oblong shape using a rolling pin. (I think oblong works best on a grill because it fits better. You can also make it round.) Crust will be thin.
Transfer dough to lightly floured cookie sheet(s).
Place dough on grill and cook for about 2-3 minutes or until bottom of crust is lightly browned. It will puff up almost immediately. Keep an eye on it!
Remove crust from grill and place back on cookie sheets COOKED SIDE UP. Place toppings on pizza (on the cooked side): pizza sauce, cheese, meat, etc.
One tip: do not go crazy with the sauce when making pizza. Too much sauce can make the crust soggy. Once toppings are on, carefully transfer pizza to grill (uncooked side down). Cook for another 2-3 minutes or until cheese is melted and bottom has a nice brown color.
That's it! Once you have your dough ready, it takes about 6 minutes until you have the best pizza ever!
Submitted by longtime Springfield Moms contributor Michele Tungett whose favorite pizza is a margherita pizza made with no sauce, fresh buffalo mozzarella, fresh basil and Roma tomatoes.