Family Reading Night 2017 is Thursday, November 18. Sponsored by Illinois Secretary of State and State Librarian, Jesse White, and the Illinois Center for the Book, Family Reading Night is an annual statewide event held the third Thursday in November to encourage families to spend quality time reading together. Reading is important every day — celebrate at a local event!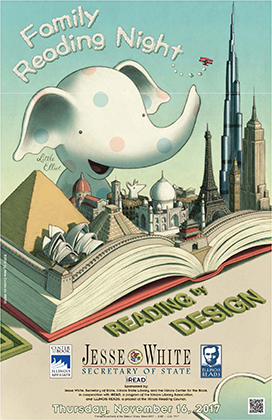 Family Reading Night at Rochester Public Library 6:00-7:30 p.m. Wear your favorite pajamas and bring the whole family for an evening of reading, storytelling, and story-sharing. Each family that attends will receive a free paperback book to take home. No registration required. rochesterlibrary.org
Family Reading Night at Chatham Area Public Library – 6:30-7:30 pm. Celebrate Illinois authors with story time, crafts, and games. All ages welcome. At 600 E. Spruce Street, Chatham. chatham.lib.il.us
Family Reading Night at Sherman Library 6:00-7:30 pm. Teachers from Sherman Elementary will be featured as guest readers throughout the evening.
Family Reading Night at Cathedral School 6-7 pm. All Cathedral families, parishioners and friends are invited for an evening of guest readers, Readers' Theater, refreshments, and more. Bring a blanket to sit on, water bottles if desired, and your family's favorite books.All ages welcome. RSVP and other information online.
Family Reading Night at Cantrall Elementary School. 6:30-8:00 pm. athens-213.org
Need some book ideas? Never fear! Our Book Nook is ready for your perusal. We even have Thanksgiving Picks ready to go!
Don't forget to check SpringfieldMoms for our 2018 summer reading directory next May. Check out last year's listing here: springfieldmoms.org/