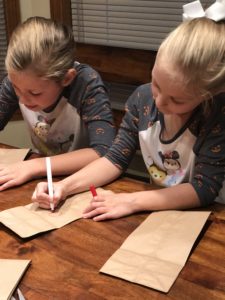 When I was growing up, every 1st of May we delivered May Day Baskets to our neighbors. Usually they were just small little cups with popcorn, candy and flowers in them. When I moved here, very few people knew what I was talking about. However in October, we found a treat on our doorstep and it said "You have been boo'd" It was a little halloween basket that was delivered by a neighbor. I had never heard of this tradition, in Iowa, where I grew up. So I thought combining the two ideas would make for a fun craft for my girls to deliver around the neighborhood.
We decided to make popcorn scarecrows. Here is what you need for this craft
First draw a face a the lunch bag on the flat side not the side that folds. Color the face anyway that you wish. We decided to add black marker stitching to our to make it look like a scarecrow. Next cut the bag at the bottom to give an jagged edged look. Open bag and fill with candy and popcorn. Lastly tie the bottom of the bag with string to close it up.
Then head on out around the neighborhood and leave the scarecrow on people's door step to leave a little fall cheer.