Submit your organization's Egg Hunts and other activities today.  Keep checking back for updates.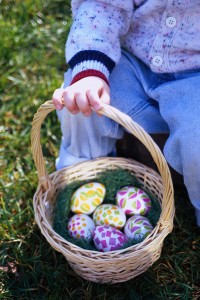 March 12: ADULT egg hunt hosted by Auburn Activities Committee at Edgewood Golf Club. Doors open at 6 pm; egg hunt at 8 pm. Music and cash bar. $20 at the door or register online. No bags or baskets allowed. Bring your own flashlight. This is NOT for children. For more information, call 438-4444.
March 19: Breakfast with the Easter Bunny: Hop on over for a continental breakfast with the Easter Bunny. Egg hunt, photos and more! Advanced registration and prepayment required. 8:00 AM – 10:00 AM at Henson Robinson Zoo. $13 per adult & $11 per child for Springfield residents; Non-Resident Fee: $15 per adult & $13 per child. Phone: 217-585-1821
March 19: Town of Normal Easter Egg Hunt – Get outside and enjoy spring, as the Town of Normal and the Normal CornBelters help the Easter bunny provide an exciting event for the whole family. Easter eggs, games and prizes will be provided at the Corn Crib stadium, 1000 W. Raab Rd. 11 a.m. to Noon. The day begins with Easter games for children ages three-10 years. Separate Easter Egg Hunts will be held for children up to age 10. The Easter Bunny and Corny from the CornBelters will be in attendance. All children need to bring their own Easter basket to the hunt. No pre-registration is required.
March 25: Easter Egg Hunt and Carnival 1:00 – 3:00 pm at Proctor Recreation Center, 309 S DuSable, Peoria. What better place to be on Good Friday than the Proctor Center Easter Carnival searching for hundreds of candy and prize-filled eggs? Enjoy carnival games such as egg toss, golf hole-in-one and jelly bean guessing game while winning prizes and participating in the ultimate Easter Egg Hunt….FREE. 309-673-9183
March 25: Celebrating Spring Party at Logan Recreation Center. Noon to 2 pm. Come out and celebrate spring! Fun games and activities, including an egg hunt. Free. at Logan Recreation Center, 1414 S Livingston, Peoria, IL 61605.
2015 Events – Check back as we update with 2016 dates!
March 29, 2015: Egg Roll in the Park. 2:00pm – 5:00pm FREE EVENT. President and Mrs. Lincoln request the honor of your presence at the first ever Easter​ Egg Roll. Registration will begin on March 2nd. Participate in the egg roll, eat an egg on a stick, face painting, games, activities and crafts. Sponsored in part by the Department of Agriculture, American Egg Board, Lincoln's New Salem, Springfield Art Association, and the Ronald McDonald House. If inclement weather, the event will be canceled.  Located at Union Station Park across the street from the Abraham Lincoln Presidential Library and Museum. More info online here.
March 28:  Chatham Jaycees Easter Egg Hunt 11 a.m. on the square in Chatham. Hunts for three age groups – PreK/Kindergarten, 1st-3rd grade, and 4th-5th grade. Bring a basket or bag.
March 28: 9:30-11:30 Easter Egg Hunt at Chatham Presbyterian: The community is invited to the Chatham Presbyterian Easter Egg Hunt – a fun morning filled with smiles for the grown-ups and candy for the kids on the lawn of the church.
March 28:  Easter Egg Scramble at South Side Christian Church both Campuses in Springfield.10:00 am -12:00pm  Fun themed egg hunt for Pre-k to 5th grade. Bounce Houses, Face Painting, Snacks, Games, Door Prizes, and Music!
March 28: Hop on out to Pleasant Hill Village for Annual Easter Egg Hunt. 11:00 am at Pleasant Hill Village's Campus, 1010 W North St., Girard. For children age 10 and under. The Easter Bunny will be arriving at 10:30am! Prizes for each age group. If it rains hunt will be cancelled. pleasanthillvillage.org
March 28: Knights of Columbus Annual Easter Party from 1:00 PM to 3:00 PM. We will be having an egg hunt, egg coloring, and refreshments. There is a signup sheet in the Pelican Room.2801 West St., Springfield, IL 62707, (217) 528-5740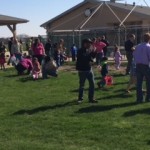 March 28: Sugar Creek United Methodist Church Easter Egg Hunt 10:30 am – 12:30 pm for Pre-K through 5th grade. Games, prizes, photo opportunities. 1022 New City Road, Chatham. 482-2270. www.sugarcreek.org
March 28: Easter Egg Hunt at The Villas of Holly Brook for kids. 10 am to noon. Donuts, juice and milk will be served. 825 E. Walnut, Chatham.
April 4:  FREE Event: 15th Annual Knight's & WDBR Easter Egg Hunt at Knight's Action Park. For children ages 6 and Under; 3 Full Hunts – 10:00, 11:00 and Noon.  More than 30,000 Eggs! Register to Win Prizes. Free Petting Zoo http://wdbr.com/2015/03/16/easter-egg-hunt/
April 4: 11:00 at Grant Middle School hosted by County Market.  Games, prizes, bounce house, and snacks.  Free Ages 1-9.
April 4:  Ages 8-13 Dodgeball Easter Egg Hunt at Goals, 3604 N. Peoria Rd., Springfield.  $3 a per child.  Starts at 6pm. Duck, dive dip and dodge for eggs. Candy or prize in every egg. Bring your own basket. Hunts will be sorted by age group.
April 4: Family Video on Koke Mill Ages 5 and under 11am.  Ages 6-12 2pm.
April 4:  Spirit of Truth Ministries 3519 Sheffield Road, Springfield. There will be games, inflatable slide, and pony rides. 10:30 for ages 1-3; 10:45 for ages 4-6 and 11 am for ages 7-12.  Free!  727-8170 for more informtation.
April 4: Egg Hunt at Calvary on Jefferson at 9:30 am. 1730 W. Jefferson Street, Springfield. Separated hunts based on age. Giant slide, petting zoo, obstacle course, face painting, food and much more. 546-9700 for more information.
April 4: Easter Bunny and Egg Hunt at the UIS Baseball game at 2:00pm.  2171 University Drive Springfield, IL 62703.  Admission is free to both baseball games that day and any age child is welcome! Search for eggs on the UIS baseball field. Photos with the Easter Bunny, too.
April 4: Egg Hunt in Girard, IL 11 am – 1 pm at the Town Square in Girard. 7,000 eggs will be hidden for children ages 0-11. Miss Illinois County Fair, Sadie Gassmann, and Miss Girard, Emily Buhl, will be in attendance. Twinkles the Clown and the Easter Bunny will be there, too. Bounce houses, hot dogs, chips and drinks, kids' activities, prize raffle, and gospel group GladHeart. Free. https://www.facebook.com/events/615477855218806/
April 4: Egg Hunt in Dawson 11 am in Dawson Park.