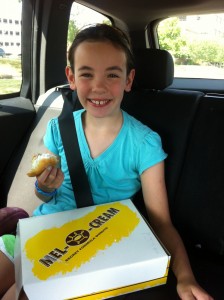 It was Saturday morning, and my kids were excited for a stop at Mel-O-Cream for donuts.  As a Springfield IL native and sweet-tooth myself, it's a treat that all three of us can agree is always a great idea!  We were greeted by their friendly staff, and my oldest walked out carrying the box with our six sweet treats.  Whoosh!  The wind game by the donut box was quickly spilled all over the parking lot.   We cleaned them up, and I walked to the car as the girls were quite unhappy!  Not a moment later, a van pulls up next to us and a nice Grandpa comes up to my window.  "I see what happened to you all, and I have grandchildren I love dearly and we love donuts too; here, go get yourselves some fresh ones!" He handed us $7 cash and beamed a huge smile.
WOW!  We were thrilled and delighted.  I told him he didn't need to do that, and he wouldn't take no for an answer.  I was so surprised I forgot to ask him for his name, and the girls and I immediately headed back into the donut shop smiling at him and thanking him profusely!  I told the Mel-O-Cream ladies what had transpired, and they let us replenish our original order and the staff wouldn't accept our $7 windfall from the sweet grandpa!  So, I told them we would continue the "pay it forward" day brightener and find something special to do for someone else ! Our eyes are on alert for a good situation, and if we don't see one, we will create one!
To the thoughtful grandpa that made our day, week and month so much more positive.  Wow, thanks for reminding us how important it is to care for those around us; and we LOVED our fresh donuts!