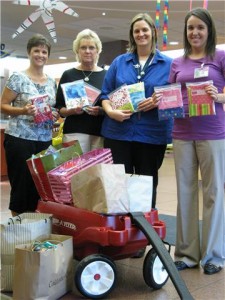 Making extended hospital stays as pleasant as possible for chronically ill children can be a challenge. Thanks to the dedication of local volunteers Tina Puzey and Judy White, both of Sumner, IL, pediatric patients at St. John's Children's Hospital are receiving pillowcases to brighten their rooms.
ConKerr Cancer is a national program that uses volunteers to make pillowcases for sick children who have cancer or another serious illness. Puzey and White are the coordinators for the Central and Southern Illinois
region.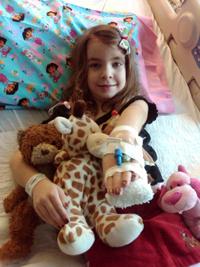 "Our chapter has volunteers from Grayville to Danville to the Mt.Zion-Decatur area with many other towns in between," said White. "Our volunteers include 4-H clubs, extension units, church youth and ladies groups, hospital auxillaries, sewing classes in schools, Girl Scouts, quilting guilds, community sewing days and individuals."
White said the fabric for the pillowcases is purchased with donations from clubs, organizations and individuals. The average cost of a pillowcase is $5 – 7, and sometimes less, as the group looks for fabric sales.
Most of the pillowcases are handmade, washed and bagged and ready for delivery. Fabric ready to be sewn is also accepted.
"ConKerr Cancer spoke to me loud and clear," said Puzey. "All children deserve happy fun-filled days without any stress, but unfortunately that is not always the case. It gives me great joy to pick out fabric and brings a smile to my face as I sew these pillowcases. My hope is that it gives the children a smile as well."
ConKerr Cancer was created in 2002 when Cindy Kerr's son Ryan was diagnosed with cancer. While Ryan spent extensive amounts of time in the hospital, his mother made him pillowcases to brighten his room. Ryan loved the pillowcases, and so did the other patients around him. Cindy began to make more to give to other chronically ill children at Children's Hospital of Philadelphia, and ConKerr Cancer was born.
Although Ryan lost his battle to cancer in 2008, ConKerr Cancer has grown to become a national initiative. Cindy and thousands of volunteers provide pillowcases to sick children in hospitals across North America and in South Africa.
Pictures above: Tina Puzey, Judy White, Child Life Specialist Vanessa Tinkous and Child Life intern Kelly Wheeler pose with ConKerr pillowcases. Right hand picture: Vanessa Little enjoying her new Dora pillowcase and ready for her IV treatment.