Submitted by SpringfieldMoms Contributor Allison Klint.
Birthdays are a treasured memory. If you are looking for birthday party ideas you can organize yourself, look no further. Creative Birthday party ideas can be a simple as 1-2-3. Here are some easy ideas that won't break the bank. You will be amazed what you can do with ordinary items around the house for your child's birthday. And don't fret if your child wants a themed birthday party like Dora or Diego or even Hannah Montana. You can take some of the activities or decoration ideas from the list below and customize.
Here are some ideas sure to bring a smile to your child's face. Enjoy! · ABC Party · An "Almost" Sleepover/Pajama Party · Bikes on Parade · Cars · Construction Junction · Fire Trucks · Footprints/Handprints (especially nice for 1st Birthday parties) · "I Oughta Be In the Pictures!" Party · Lady Bug or Butterfly · Luau · Powder Puff Princess Party · Rainbow · Teddy Bear Picnic · Treasure Hunt/Pirates  
ABC Party
An Almost Sleepover/Pajama Party (A party where they come in their PJs but don't stay!)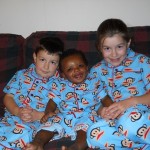 Bikes on Parade
Cars
Color Me Happy Party
Construction Junction
Fire Trucks
Footprints/Handprints (Especially for "1st" Birthday Theme!)
"I Oughta Be in Pictures" My grade school daughter was invited to one of these parties and LOVED it!
Ladybug or Butterfly Party
Luau
Powder Puff Princess Party
Rainbow Party
Teddy Bear Picnic
Wall Football
Need a last minute game idea? I know I did, and thanks to Amy McFadden for sharing this website. Customizable BINGO cards, FREE and FUN! This a fun and low-cost idea you can adapt for kid parties for any occasion. Choose from a variety of themes (i.e. Birthday, seasons, party themes, Kids Shows, etc.) and choose your layout. You may customize with words of your choice. To print a different game card each time, hit Refresh, and the page will reload to a new card. www.dltk-cards.com/bingo Stay on the website for online jigsaw puzzles in a variety of difficulty and types of patterns to choose from www.dltk-kids.com/puzzle.