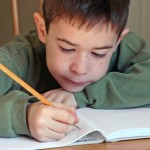 Kids at Koke Mill offers a handwriting group to address the many aspects of corrective handwriting. Printing and cursive groups are available throughout the year and are offered to children four years of age and older. The classes are limited to four to eight children and consist of seven or eight one-hour sessions.
All handwriting templates will be offered so your child will be able to focus on the template used by his/her school.
Goals include:
Recognize upper and lower case letters of the alphabet
Improve printing and cursive skills (upper and lower case letters of the alphabet)
Recognize and print basic numbers
Improve upper body, hand and trunk strength
Improve grasp on writing utensil
Improve ability to maintain letters within the appropriate boundaries
Improve accuracy and legibility of simple words
Improve ability to form capital and lower case letters correctly
Evaluate higher level spelling, grammar, etc. for older children
This program is offered to all children; however, it is not covered by insurance. If your child is interested in the handwriting group, please call 217-862-0420.