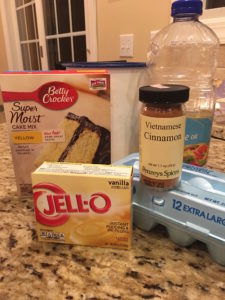 This coffee cake recipe will be sure to become a family favorite!
Recipe submitted by Sheila Caldwell
Heat oven to 325 degrees
1 box Yellow Cake Mix (Duncan Hines)
1 large box vanilla instant pudding
4 eggs
1/2 cup oil  (I used applesauce for a lower calorie option)
1 tsp vanilla
1 cup water
Beat ALL ingredients with an electric mixer for 10 minutes.
Topping:  1/2 cup sugar  2 T cinnamon (*tip, use Vietnamese Cinnamon from Penzey's Spices for enhanced cinnamon flavor!) You don't need to use all of the topping.
Grease 9 X 13 pan and flour pan, Pour half batter in pan.  Sprinkle 1/2 topping, then repeat.
Marble with a knife.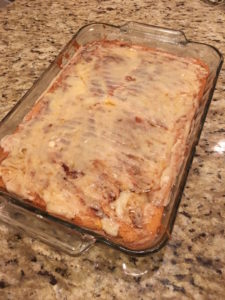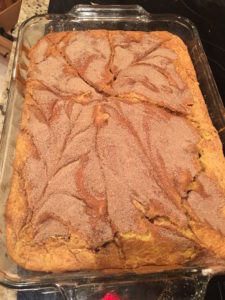 Bake at 325 degrees for 30 minutes and then check .  When inserted toothpick comes out clean…it's done!
Cool before removing from pan.
Icing: 1 stick butter, melt till just dark, add powdered sugar till thick.  Drizzle over warm cake.
The icing was very sweet so you can apply as much or as little to your liking!