If you need to escape for a few days but don't want to travel hundreds of miles, consider spending a weekend in The Windy City – Chicago! With Chicago being the third largest city in the United States, there are countless opportunities for fun activities, shopping and delicious food! Plus, it is only an Amtrak ride away. Below are some suggestions located in the downtown or Lake Shore Drive areas.
ATTRACTION DISCOUNTS
Visit the fun Chicago Kids website for a list of FREE admission dates for the major Chicago museums.
Purchase a "CityPass," which will give you admission to the most popular of the downtown Chicago attractions. If you're planning to go to all of the attractions, it can be very cost-effective.  The attractions below are noted if they are included as an option for the CityPass.
ATTRACTIONS
Museum of Science and Industry – Located at 57th Street and Lake Shore Drive, this massive museum will take you through interactive exhibits, tours and demonstrations. From a submarine tour, to a fairy castle, to exhibits where visitors can learn more about their bodies – there is something at this museum for everyone! www.msichicago.org ***CityPass***
Shedd Aquarium – This aquarium is located at 1200 South Lake Shore Drive. From rivers to oceans, this aquarium features animals from the very large variety (think whales and dolphins) to teeny tiny (jellyfish). www.sheddaquarium.org ***CityPass***
Adler Planetarium – This planetarium is located at 1300 South Lake Shore Drive. The planetarium features many interactive exhibits, observatories with telescopes and much more.    ***CityPass***
The Art Institute of Chicago – Families can explore, discover and enjoy art together at the Art Institute through art-making activities, exhibitions, self-guides, games and more.  Family classes available.  Thursday night admission is free 5:00 – 8:00 p.m.  Plus, amazing year-round exhibits to view.
Willis Tower – formerly called Sears Tower, located at 233 South Wacker Drive. Voted one of seven "wonders" by the Chicago Tribune, the Skydeck at Willis Tower allows you to have a birds eye view of the Windy City. The tower is the largest building in the western hemisphere! There are interactive displays as well as children's activities. www.willistower.com ***CityPass***
Millennium Park – located in the heart of downtown, Millennium Park is home to art (The Bean), music and many other events. It has 24.5 acres located within Grant Park. There are many sculptures, a fountain that kids can play in, beautiful landscaping and much more. www.millenniumpark.org
Museum of Contemporary Art – located at 220 East Chicago, this museum is in the heart of Chicago's Magnificent Mile. Visitors to the museum can take in all of the traveling and permanent exhibits, from current artists to artists from years past.  www.mcachicago.org
Lincoln Park Zoo – located in the shadows of Chicago's huge skyscrapers, this zoo is an oasis for animal lovers. Visitors can enjoy the children's zoo, learning about farms, African exhibits, animal shows and much more.  www.lpzoo.org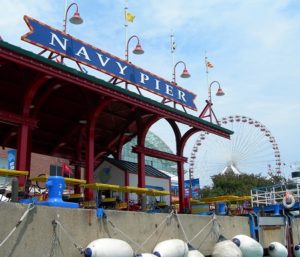 Navy Pier – located right on the shore of Lake Michigan, Navy Pier has something that will appeal to all ages. The pier features an amusement park, shopping, boat rides, restaurants as well as a great children's museum. www.navypier.com
John Hancock Observatory – located in downtown Chicago, 140 stories above the Magnificent Mile (Michigan Avenue). Check out the open-air Skywalk which takes you to the edge – but don't worry, you won't fall! The tower also has telescopes and a wall with historical artifacts.  www.hancockobservatory.com
Field Museum of Natural History – located on Lake Shore Drive, near Adler Planetarium. This large museum has countless exhibits with artifacts from times past, rocks, fossils, plants. Currently, there is a temporary exhibit running through March 2010 featuring diamonds. www.fieldmuseum.org ***CityPass***
The Magnificent Mile – as the name implies, Magnificent Mile is the shopping destination in Chicago. Located on Michigan Avenue, visitors can find shops galore – over 460 shops and 50 hotels in the area, not to mention all of the dining options! Come for a visit in November and December to see all of the great decorations and festivities.  The Macy's window displays are especially noteworthy. www.themagnificentmile.com
PLACES TO EAT
There are countless places to eat in the downtown area. Below is just a small sampling of those which are well-known and/or family-friendly.

Gino's East – Located in the pizza capitol of the world, people come to Gino's East from all over to experience their famous deep dish pizza. There are many locations throughout Chicagoland. If you can't check out the restaurant in person, you can also order their pizzas online and have them shipped to you. www.ginoseast.com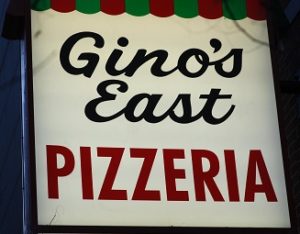 American Girl Place – Located right on the Magnificent Mile, the American Girl Place is a haven for young girls to bring their A.G. dolls, buy new outfits, have their hair styled, and even enjoy a unique dining experience. The American Girl Place offers dining options from a bistro serving casual meals, a dessert counter, as well as a restaurant serving afternoon teas and brunches. And your child's doll even has a spot at the table! www.americangirlplace.com
Frontera – Located a few blocks west of Michigan Avenue on Clark Street, this restaurant is owned by Rick Bayless (famous chef who has a cooking show on PBS). If you're looking for something with an authentic Mexican flair, this restaurant is sure to please. www.rickbayless.com/restaurants/grill.html
Quartino – Located at 626 N. State Street. This restaurant is great for all ages because its always got a crowd and you never have to worry about your kids being loud or disruptive (but there is no room for strollers). Secondly, and more importantly, the food is wonderful. It's Italian food but kind of like tapas. You order little plates and the food comes as it is ready, and you order as you go. www.quartinochicago.com
Ghirardelli Ice Cream & Chocolate Shop – Located at 830 N. Michigan on the Magnificent Mile. Buy some chocolate for later and enjoy an ice cream treat. www.ghirardelli.com
La Madia – Located at 59 West Grand Ave. The food is excellent, especially the salads and pizza. The staff is accommodating and will bring your child a ball of pizza dough to knead and play with while you wait for your food to be ready. www.dinelamadia.com
PLACES TO STAY – READER RECOMMENDATIONS
Before you reserve your room, please be sure to check with the hotel for parking information. Most if not all hotels will charge a hefty nightly fee for parking onsite.
Fairfield Suites Chicago – Located just one block from the Magnificent Mile, this hotel offers packages that include some of the popular Chicago attractions. (Thank you to reader Kate Rogers-Medley for the recommendation!) www.fairfieldsuiteschicago.com
Holiday Inn Express Magnificent Mile – Located just off of the Magnificent Mile on Wabash Avenue, Holiday Inn Express locations are well-known for their family friendliness. Tiny rooms but clean and across the street from a Trader Joe's. www.ichotelsgroup.com
Homewood Suites – Reader Favorite! Located at 40 East Grand Avenue, just one block west of the Magnificent Mile. This hotel features a welcome reception and free breakfast for guests.  www.homewoodsuites.com

SPORTING EVENTS
THEATER
Check out this Chicago Theater website for information on shows and Chicago area theaters.
ComedySportz Chicago – the longest running short-form improv show in Chicago. It's not stand-up comedy about sports…it's improv comedy played as a sport! Kid-Friendly fun.
ADDITIONAL RESOURCES