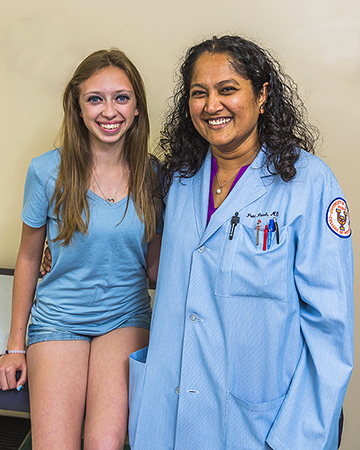 When Hannah Negray, now 17, was born in central Illinois, she seemed perfectly healthy. But a few hours after her birth, her pediatrician detected a problem. "I remember thinking, 'There's no way!'" Hannah's father, Tim, says. "I counted 10 fingers and 10 toes. I held her; I knew that she was perfect."
Hannah's heart, however, was not. An echocardiogram revealed that Hannah had a condition called pulmonary valve stenosis. In other words, she had severe narrowing of the valve on the right side of the heart that pumps blood to the lungs. At just 7 months old, Hannah underwent her first open heart surgery at OSF HealthCare Children's Hospital of Illinois, in which cardiologists repaired her valve. A week later, surgeons implanted a pacemaker to help regulate her heart rhythm. For many years, doctors monitored Hannah's heart. Over time, however, the valve started to leak. When she was in fifth grade, she had to have another open heart surgery, in which surgeons replaced her valve. "It was so hard watching her go through it each time because she was in so much pain and there was nothing we could do to make it go away," Tim says. Hannah recovered from the valve replacement surgery and thrived for several years, but her heart troubles resurfaced. "About a year ago, I noticed that I started getting tired really easily," she says. OSF HealthCare Children's Hospital pediatric cardiologist Ty Hasselman, MD, tracked down the cause: Hannah's artificial valve was leaking. She would need another replacement—except this time, she may not need open heart surgery.
A brand-new tool, called the Melody transcatheter pulmonary valve, offers patients with pulmonary valve disease a minimally invasive option. "The difference with this procedure is that we don't have to cut the chest bone open," says pediatric cardiologist Priti Patel, MD. "The valve is sutured into a stent, which we thread through a catheter from a vein in the groin up to the heart. Then, we put the valve in place." Hannah's mom, Faith, recalls the moment Dr. Patel first told them about this procedure. "I felt such a sense of relief that there was a chance Hannah wouldn't have to go through open heart surgery again," she says. OSF HealthCare Children's Hospital is one of only 90 facilities around the world—and the only one in downstate Illinois—that currently offers this leading-edge procedure.
On July 22, 2015, Hannah underwent the Melody procedure, performed by Dr. Patel. Afterward, Hannah remained in the hospital just one night instead of the typical five- to seven-day hospital stay after open heart surgery. "After surgery, I wasn't in any pain, I felt 100 times better, and I wanted to get up and do things right away," Hannah says. Dr. Patel notes that these dramatic, immediate improvements are very common with the Melody procedure. "For patients with a leaking or narrowed valve who receive the Melody valve, they notice a difference right away," she says. "They can walk farther and faster, they don't get tired as easily, and their legs feel warmer because of improved circulation."
LASTING BENEFITS
In addition to being less invasive, the Melody valve boasts another big benefit: longevity. "The procedure first became available to patients in Europe in 2000 and most still have the valve in place, so they last for 15 years and counting from the limited data available," Dr. Patel says.
The procedure is available for patients who weigh 66 pounds or more and already have an artificial valve or conduit in place. The latter requirement is key because Melody valves are placed inside existing artificial valves or conduits. "A native right ventricular outflow tract is dynamic, but the Melody valve has a fixed diameter, so it needs to be placed inside an artificial valve or conduit that doesn't contract or expand," Dr. Patel says.
Whenever Hannah needs a replacement Melody valve, Dr. Patel can simply place the new valve inside the existing one. At present, though, Hannah is stronger and healthier than ever. A senior in high school, she's part of the basketball cheer leading squad and the varsity golf team. "Before, it was hard for me to walk nine holes of golf," Hannah says. "Now, I'm ready to play another nine."