See what a day at Camp Invention is like! Watch Video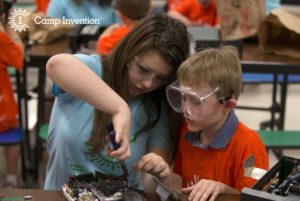 Imaginations gain fuel and creativity soars at Camp Invention®!
A program of the National Inventors Hall of Fame®, Camp Invention is an exciting, weeklong summer adventure with lessons that explore connections between science, technology, engineering, and innovation. Children in kindergarten through 6th grade work together to seek solutions to real-world problems and sharpen critical 21st century learning skills while rotating through several fascinating modules.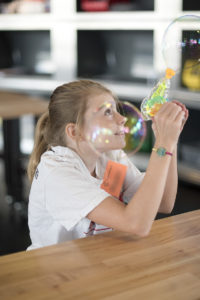 Camp Invention's new program, Launch, allows campers to experience real-world problem solving and creative thinking! From blasting off to the nearest exoplanet to launching the next, start-up business, children experience the power of their ideas being launched into reality. In Battle Blast™, children fling, fly, and float their way through high-energy air challenges and take home their own high-tech Bubble Blaster, complete with flashing lights! Children become DIY (Do-It-Yourself) Duct Tape dynamos in Duct Tape Billionaire™, as they design products, build their inventories, take risks, and launch start-up businesses that will put their products in high demand. In Mission Space Makers™, children receive challenges from mission control to locate and prepare a new planet for human habitation. They must design inventions to transform its atmosphere, terrain, and ecosystem, as well as set up a Space Lab to hatch animal eggs, sprout plants, and grow crystal trees. In Operation Keep Out™, children launch their design engineering skills as they build Spy Gadget Alarm Boxes with light sensors and high-functioning circuitry that will keep tiny little hands out of their most valued treasures.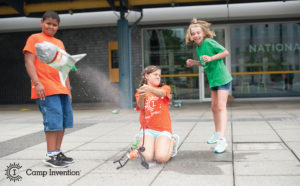 If your child still wants the Camp Invention experience, but has completed 6th grade, he or she can participate in our Counselor-in-Training (CIT) program! Those entering the 7th, 8th, and 9th grades can join our CIT program, where they'll gain real world experience on how to be a positive mentor and coach.
Register on or before May 1, 2017 using promo code INNOVATE15  to save $15 ooff the base price.
Every registration includes a complimentary Camp Invention t-shirt. Availability is limited, so visit www.campinvention.org or call 800-968-4332 to secure your child's spot today!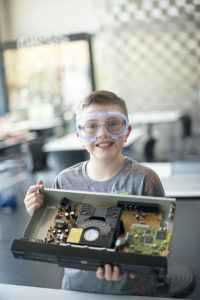 2017 Area Locations  Register Online here
University of Illinois at Springfield, 6/19/17-6/23/17 
Pleasant Plains Middle School, 6/12/17-6/16/17
New Berlin Junior High School, 7/10/17-7/17/17