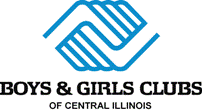 300 South Fifteenth St.
Springfield, IL 62703
217-544-0548
www.bgccil.org
Boys & Girls Clubs of Central Illinois provides youth development programs that enable young people to acquire the skills and qualities needed to become responsible citizens and leaders.
Empowered with these positive developmental experiences and opportunities, Boys & Girls Club members have continually demonstrated their ability to overcome negative, failure-oriented environments and move toward fulfilling their dreams.
Since its inception, the Boys & Girls Club Movement has provided mentoring and leadership specifically designed to change the lives of youth who face daily challenges such as poverty, broken homes, crime, unemployment, prejudice and difficulties in school.
Core Program Areas:
Character & Leadership Development
Education & Career Development
Health & Life Skills
Sports, Fitness & Recreation
The Arts
Pin It