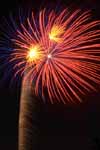 Coming off the evening of watching fireworks to celebrate the birthday of our great nation, I am so grateful for many things. Most of all, I'm grateful for the pure joy my kids expressed every time a huge firework went off in the sky. I wanted to bottle this positive energy and keep it close by to release as needed when I need a boost. Their innocence and enthusiasm for the beauty of fireworks was coupled with knowing that this was a tradition they will reflect on as they get older with treasured memories.
I'm so grateful for everyone who makes the sacrifice to protect and serve our country so we can enjoy a day of family time in pure celebration of memory making and tradition. That's the beauty I see in the spectacular fireworks!
We hope you all enjoy the continued festivities over the weekend including Taste of Downtown and American Music Show in downtown Springfield. Always great food, music and fun!