Enjoy this list of our favorite books for grandparents to read to — and with — grandchildren!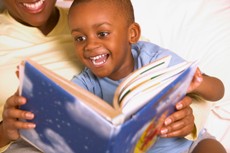 The Hello, Goodbye Window by Norton Juster, illustrated by Chris Raschka. Hyperion Book CH, 2005. A little girl visits her grandparents, where the kitchen window is a magic getaway.
Grandpa Loves You by Helen Foster James, illustrated by Petra Brown. Sleeping Bear Press, 2016. A touching story just for grandpa and his grandchild.
Grandma Wishes by Julia Lobo. Cottage Door Press, 2015. A sweet book with images that even the youngest babies will love. It expresses love that grandmothers feel — very touching.
How to Babysit a Grandpa by Jean Reagan, illustrated by Lee Windish. Knopf, 2012. This is a hilarious "how to" book for kids to consider how to best "babysit" a grandpa, including snack time, play time, and taking walks.
Mog the Forgetful Cat by Judith Kerr. HarperColllins, 2006. This book about Mog the cat has a feel of the 1970s — perfect for certain grandparents!
Cooking with Grandma by Rosemary Mastnak. Hardie Grant Egmont, 2012. A beautiful book where Anya visits her grandma and they cook all kinds of creations then take adventures throughout the house.
Me With You by Kristy Dempsey, illustrated by Christopher Denise. Philomel Books, 2013. In the good times and the grumpy times, Grandpa is there for you, and that's just what happens in this touching book.
I Love You, Grandma by Jillian Harker, illustrated by Kristina Stephenson. Parragon Books, 2015. As Little Bear gets older, Grandma Bear helps him try new things. This is a great book for early readers to practice reading to their grandmas.
Last Stop on Market Street by Matt de la Pena, illustrated by Christian Robinson. G. P. Putnam's Sons, 2016. CJ and his grandma are riding the bus across town, and CJ starts wondering why he doesn't have things that other people do. Grandma, in her wisdom, teaches him that beauty is everywhere. A great way to remind your child to be grateful.
Grandpa Green by Lane Smith. Roaring Book Press, 2011. This picture book tells the story of a great-grandfather's life. It's one that children and grandparents alike will want to read over and over.
Nana in the City by Lauren Castillo. Clarion Books, 2014. A boy from a small town visits his grandma in the city, and he's frightened at first. But Nana helps him be brave and he ends up having a wonderful time in the bustling city, thanks to Nana.