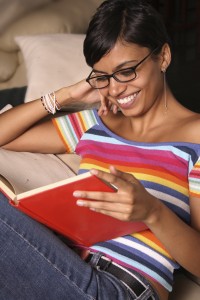 Looking for a way to stay connected to your tween or teen? Learn how to organize your own Mother-Daughter Book Club below. Brenda Barton-LeMay sent in the following idea:
"My daughter Sierra and I started a Mother-Daughter book club during the summer before she and her friends started 4th grade. This was the first time I felt the girls were mature enough to participate in a meaningful way, and I think this proved true for the girl members of our book club.
Here is the name of a great book to get you started: The Mother-Daughter Book Club: How Ten Busy Mothers and Daughters Came Together to Talk, Laugh and Learn Through their Love of Reading by Shireen Dodson. I've also attached copies of some of the materials I used in connection with our first organizational meeting, along with a copy of our bylaws, the books we've read and a list of books previewed that may be helpful.
Although the girls have always been responsible for picking the books, planning and leading the meetings, the moms initially played a more involved role in that process (particularly in facilitating the discussions). Over time, the moms have backed off and allowed the girls more independence in handling these tasks. Now, the moms play a much smaller role, even in the facilitating of the discussions, because the girls (now 7th graders) have matured so much intellectually and emotionally.
In the beginning, we moms hoped that we would instill a love of reading and discussing books in our daughters, and that eventually we could use the book club as a vehicle for discussing issues with the girls in a comfortable, protected setting (e.g., peer pressure, boys, changing bodies, tolerance and diversity issues, etc.). To our delight, that is exactly what has happened!"
Editor's note: We encourage Springfield Moms readers to launch their own Mother-Daughter book clubs and tell us how it's going! Any mother-son or father-son or daughter book clubs out there? Let us know!
Submitted by Springfield Moms reader Brenda Barton-LeMay.